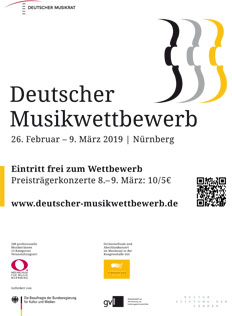 German Music Competition begins in Nuremberg
26.2.2019: Each year, the German Music Competition promotes the next generation of classical music professionals in Germany. For the first time it will be held in Nuremberg, where between February 26 and March 9, 2019, over 300 young musicians will be competing to win prizes in various categories, including solo singing, violoncello, trumpet, tuba, and guitar as well as ensembles for early music and chamber music ensembles ranging from piano duos to wind quintets.

What distinguishes this competition from others is the fact that the first two rounds take place before expert juries, but from the third round onwards all juries come together to form a joint, interdisciplinary jury with around 25 members. Once again this year, a GENUIN sound engineer will be on the jury right from the start of the competition.

On March 9, the prizewinners will take part in a concert with the Nuremberg Symphony Orchestra conducted by Olivier Tardy in the concert hall of the Congress Hall. In addition to receiving prize money, the winners will also receive support in the form of various workshops and a CD production in co-production with Deutschlandfunk and GENUIN. The CDs will be released in GENUIN classics' "Primavera" series. Since 2006, 40 CDs have been released on this label.

The German Music Competition is regarded as the most important national competition in Germany for young professional musicians. Since 1975 it has been held once a year with continuously rotating categories.

The competition is sponsored by the German Music Council and supported by the Federal Government Commissioner for Culture and the Media, the Federal City of Bonn, the Cultural Foundation of the German Federal States and the Society for the Administration of Neighbouring Rights (GVL).
For more information about Edition Primavera at GENUIN


To the homepage of the German Music Competition