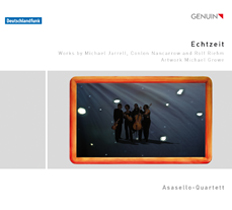 The Asasello Quartet in the First Issue of VAN, the New Tablet Magazine for Classical Music
8.7.2014: The first issue of VAN, the new tablet magazine for classical music, will begin with a text by Barbara Kuster, violinist with the Asasello Quartet. In it, Kuster dedicates herself to the work "Tempo Strozzato" by Rolf Riehm, recorded by the Asasello Quartet on the GENUIN CD "Echtzeit (Real Time)". In an entertaining manner, she provides the reader with a glimpse into her personal approach to this contemporary string quartet.

Read for yourself:
"Before we, the Asasello Quartet, had assimilated Rolf Riehm's 'Tempo strozzato', I always had to think of strozzapreti - the small twisted, literally "choked" Italian noodles. I don't know whether they are thus named because the priests ('preti') choked themselves on them in their ravenousness, or if the housewives twisted the noodles so furiously as if to choke a priest. In any case, there is an emotional action behind it - something rebellious, prickly, going against the grain..."

You can find the entire article by Barbara Kuster here as a PDF.

The tablet magazine VAN is available in the iTunes-Store and in the Google Play Store.

VAN will appear quarterly from now on, giving individual composers and musicians, literary authors and distinguished journalists an opportunity to voice their opinions. The founders and managing directors of the independent VAN publishing company are editor-in-chief Hartmut Welscher and Ingmar Bornholz.

The CD "Echtzeit" (Real Time) with works by Michael Jarrell, Conlon Nancarrow and Rolf Riehm was released in October 2013 by GENUIN and received very positive reactions from the media:

Ensemble
"An ambitious programme in perfect interpretations."
Review in the magazine Ensemble, December/January 2013/14 by Hans-Dieter Grünefeld

Rondo
Recommended with 5 out of 5 stars
"And the way the Asasello Quartet gets this bold, burlesque quartet going is not only a team achievement that can hardly be surpassed, but also an artful pleasure."
Review in the magazine Rondo by Guido Fischer, 23.11.2013

Monthly recommendation of the Neue Zeitschrift für Musik
"Asasello's Real Time is a blessing in every respect - curated very personally and performed to perfection."
A full number of points for music, engineering and booklet!