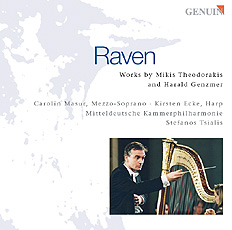 | | |
| --- | --- |
| Mikis Theodorakis | |
| Raven | |
| Mikis Theodorakis | |
| Adagio | |
| Harald Genzmer | |
| Harp Concerto | |
| Prologue | |
| Presto | |
| Theme and Variations | |
| Finale | |
| Harald Genzmer | |
| Fantasia for Harp | |
| I. largo e sempre rubato e con fantasia | |
| II. Presto | |
| III. Intermezzo | |
| IV. Finale | |
| | |
Mikis Theodorakis (*1925): Raven
Harald Genzmer (*1909): Harp Concerto, Fantasia for Harp solo
Carolin Masur, mezzo soprano
Kirsten Ecke, harp
Mitteldeutsche Kammerphilharmonie
Stefanos Tsialis, conductor


In stock, shipping in 1-2 days.

Shipping only within the EU, UK, Switzerland, Norway
We offer free shipping!

Please read our General Terms and Conditions and Privacy Statement carefully.


Flying high over Bavarian and Hellenic countryside: "Raven" is the newest CD out on the Genuin label and places works by Mikis Theodorakis and Harald Genzmer side by side. From lofty heights, connections become clear, the tonal sensibility of both composers stand out and listeners can enjoy the immediacy of meandering melodies and the shimmering lakes of sound. No matter how high the praise for these geographical soundscapes Ė the tonal beauty of mezzo-soprano Carolin Masurís singing in Theodorakisí "Raven", Kirsten Eckeís gloriously intoned harp playing, and the splendid sound of the Mitteldeutsche Kammerphilharmonie conducted by Stefanos Tsialis deserve all the listenerís attention as well.