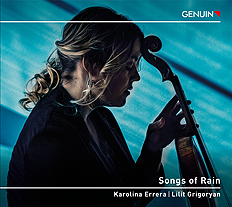 GEN 22769
EAN: 4260036257694
3.6.2022

| | |
| --- | --- |
| Pyotr Ilyich Tchaikovsky (1840–1893) | |
| from 6 Romances, Op. 6 (1869) | |
| No. 4 A tear trembles | |
| Sergei Rachmaninoff (1873–1943) | |
| from 6 Romances, Op. 4 (1890–93) | |
| No. 3 In the mysterious silence of the night | |
| John Dowland (1563–1626) | |
| from The First Booke of Songes or Ayres (1597) | |
| If my complaints could passions move | |
| Benjamin Britten (1913–1976) | |
| Lachrymae: Reflections on a song of Dowland, Op. 48 (1948) | |
| Lento | |
| Allegretto, andante molto | |
| Animato | |
| Tranquillo | |
| Allegro con moto | |
| Largamente | |
| Appassionato | |
| Alla Valse moderato | |
| Allegro marcia | |
| Lento | |
| L'istesso tempo | |
| Sergei Prokofiev (1891–1953) | |
| from Romeo and Juliet, Op. 64 (1936) (excerpts) | |
| Death of Juliet | |
| Johannes Brahms (1833–1897) | |
| from 8 Lieder and Songs, Op. 59 (1870–73) | |
| No. 4 Nachklang | |
| Johannes Brahms | |
| Violin Sonata No. 1 in G major, Op. 78, "Regensonate" (1878/79) | |
| Vivace, ma non troppo | |
| Adagio | |
| Allegro molto moderato | |
| | |
Works by Tchaikovsky, Rachmaninoff, John Dowland, Britten, Prokofiev and Brahms
Karolina Errera, Viola
Lilit Grigoryan, Piano


In stock, shipping in 1-2 days.

We offer free shipping!

Please read our General Terms and Conditions and Privacy Statement carefully.










A cloudy sky and raindrops beating on the window: this itself is practically music, and for centuries, the sound of rain from the clouds has inspired not only painters but also poets and composers. On her debut GENUIN CD, violist Karolina Errera and her piano partner Lilit Grigoryan present a selection of highly emotional music from John Dowland to Benjamin Britten. The prizewinner of numerous international competitions has placed a wide range of original works and arrangements on the program of this CD – moving works that are best suited by both the warm sound of viola and piano, as well as the playing culture of the two interpreters!


Scala Radio.
On 3 June 2022, "Songs of Rain" was presented on the British classical music radio station Scala Radio.