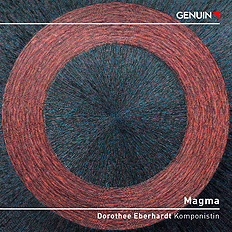 GEN 22785
EAN: 4260036257854
6.5.2022

| | |
| --- | --- |
| Dorothee Eberhardt (*1952) | |
| Magma (2020) für Holzbläserquintett | |
| 01 | |
| 02 | |
| 03 | |
| Dorothee Eberhardt (*1952) | |
| Juntos (2015/2016) für Violine und Bassklarinette | |
| 01 | |
| 02 | |
| 03 | |
| Dorothee Eberhardt (*1952) | |
| Extravaganza (2018) für Flöte und Klavier | |
| 01 | |
| 02 | |
| 03 | |
| 04 | |
| Dorothee Eberhardt (*1952) | |
| Eos (2015) für Flöte und Klarinette | |
| 01 | |
| 02 | |
| 03 | |
| 04 | |
| Dorothee Eberhardt (*1952) | |
| Neon (2012) für Klarinette und Klavier | |
| 01 | |
| Dorothee Eberhardt (*1952) | |
| Kymata (2014/2015) für Violine, Horn und Klavier | |
| 01 | |
| 02 | |
| 03 | |
| 04 | |
| | |
Works by Dorothee Eberhardt
Monet Quintett
Trio Tricolor
Axel Gremmelspacher, Piano
Zoltán Kovács, Clarinet, Bass clarinet
Catherina Lendle, Violin
Dorothee Eberhardt, Composer


In stock, shipping in 1-2 days.

We offer free shipping!

Please read our General Terms and Conditions and Privacy Statement carefully.









Dorothee Eberhardt's fifth portrait CD on GENUIN is made up of new and recent works for unusual instrument combinations. First-class ensembles and musicians such as the Monet Quintet, the Trio Tricolor (Korbinian Altenberger, violin, Christoph Eß, horn, and Boris Kusnezow, piano), Zoltán Kovács (clarinet) Axel Gremmelspacher (piano), and Catherina Lendle (violin) take part. In addition to the tremendous musical palette of the works, they are characterized by strong rhythms, especially in the form of rhythmic ostinati, in which Dorothee Eberhardt has reimagined Johann Sebastian Bach's ideas: Extravaganza is full of drive, Magma enchants with filigree and complex rhythmic meshes, and Neon virtually intensifies
into a state of breathlessness.

BBC3
On 7th May Magma was featured on "BBC Radio 3 Record Review with Laura Tunbridge and Andrew McGregor.