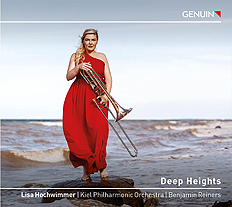 GEN 22774
EAN: 4260036257748
4.3.2022

| | |
| --- | --- |
| Gaetano Donizetti (1797–1848) | |
| From: Don Pasquale | |
| Bella siccome un angelo | |
| Derek Bourgeois (1941–2017) | |
| Concerto for Bass Trombone and Band, Op. 239a (2006) | |
| Allegro con energico | |
| Adagio molto | |
| Allegro molto vivace | |
| Pyotr Ilyich Tchaikovsky (1840–1893) | |
| From: Eugene Onegin | |
| Everyone knows Love on Earth | |
| Alexey Lebedev (1924–1993) | |
| Concerto No. 1 for Tuba/Bass Trombone and Orchestra (1947, rev. 1980) | |
| Giuseppe Verdi (1813–1901) | |
| From: Don Carlo | |
| Ella giammai m'amò | |
| Christopher Brubeck (*1952) | |
| Prague Concerto for Bass Trombone and Orchestra (2004) | |
| The Return of the Prince | |
| Song of the Mountains | |
| Dance of the Neocons | |
| Richard Wagner (1813–1883) | |
| From: Tannhäuser und der Sängerkrieg auf Wartburg | |
| O du, mein holder Abendstern | |
| | |
Works by Donizetti, Bourgeois, Tchaikovsky, Lebedev, Verdi, Brubeck and Wagner
Lisa Hochwimmer, Bass Trombone
Philharmonisches Orchester Kiel
Benjamin Reiners, Conductor


In stock, shipping in 1-2 days.

We offer free shipping!

Please read our General Terms and Conditions and Privacy Statement carefully.










As Richard Wagner penned in Das Rheingold, "Traulich und treu ist's nur in der Tiefe" (Tender and true 'tis but in the depths): This recording is a truly sensational debut full of dizzying depths, presented by the up-and-coming bass trombonist Lisa Hochwimmer on her debut GENUIN CD together with the Kiel Philharmonic Orchestra. The program features fascinating compositions for the lustrous golden low-pitched instrument, which is rarely heard as a solo instrument with an orchestra. Lisa Hochwimmer embarks on wide-ranging musical expeditions, taking on powerful original repertoire by Derek Bourgeois, Alexej Lebedev, and Chris Brubeck, as well as imaginative arrangements of opera arias by Peter Tchaikovsky, Giuseppe Verdi, and Richard Wagner. And with this smoothness and depth, some of Walhalla's gods are guaranteed to be green with envy.


Das Orchester
"Beeindruckend leichtfüßig klingt Lisa Hochwimmer auf ihrer Bassposaune." Review from November 2022

Klassik Heute
"Prägnanter kann man sich wohl nicht positionieren" Read the review from 27.05.2022 here on the website of Klassik Heute.