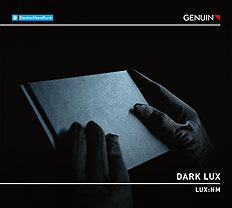 GEN 21744
EAN: 4260036257441
4.6.2021

| | |
| --- | --- |
| Sounddesign: Jan Brauer | |
| Intro (2020) | |
| Gordon Kampe | |
| Flüsterkantate (2018) | |
| Gordon Kampe, nach Jean-Philippe Rameau (1683–1764) | |
| Gigue (J. Ph. Rameau – "Frankensteins Gruß") | |
| Text: Sarah Trilsch, Klangcollage: Jan Brauer, Ruth Velten | |
| Wölfe (2020) | |
| Komposition, Improvisation: J. Brauer, R. Velten, S. Lange, F. Juncker, B. Altenburg, V. Kyianytsia | |
| Das ABC der Straftaten (2020) | |
| Gordon Kampe | |
| Notturno (2018) | |
| Gordon Kampe | |
| aus: Fat-Finger-Error | |
| Tarantella (2018) | |
| Gordon Kampe, Field Recording: Ruth Velten | |
| Teufel (2018) | |
| Text: Sarah Trilsch, Field Recording: Ruth Velten | |
| Dunkel (2020) | |
| Gordon Kampe | |
| Das Posaunenmonster inkl. höllischem Orgelgedöns (2018) | |
| Gordon Kampe, Field Recording: Ruth Velten | |
| Das Vogellied (2018) | |
| Komposition, Improvisation: J. Brauer, R. Velten, S. Lange, F. Juncker, B. Altenburg, V. Kyianytsia | |
| DARK LUX (2018/2020) | |
| Improvisation: Silke Lange, Vitaliy Kyianytsia, Ruth Velten, Jan Brauer | |
| Dies Irae (2019) | |
| Klangcollage: Ruth Velten, Gordon Kampe, Jan Brauer, Text: Sarah Trilsch | |
| Idyll (2020) | |
| Gordon Kampe, Text: Sarah Trilsch, Sounddesign: Jan Brauer | |
| Der schönste Ort (2018) | |
| Carlo Gesualdo da Venosa (1566–1613), Arr. Gordon Kampe | |
| aus: Responsorien für die Karwoche (1611) | |
| Astiterunt reges terrae (2018) | |
| Carlo Gesualdo da Venosa, Arr.: Gordon Kampe | |
| Madrigal (1596) | |
| Sparge la morte (2018) | |
| Komposition (mit Improvisationsanteilen von LUX:NM): Gordon Kampe, Text: S. Trilsch | |
| Dark Ego (2019/2020) | |
| Gordon Kampe | |
| Fate la nonna (2018) | |
| Gordon Kampe | |
| Tango (2018) | |
| Klangcollage: Jan Brauer, Ruth Velten | |
| Donnerwetter (2020) | |
| Gordon Kampe | |
| Choral (2018) | |
| | |
Works by Gordon Kampe, LUX:NM & Jan Brauer und Carlo Gesualdo da Venosa
Gordon Kampe, Composer
LUX:NM, Composer
Jan Brauer, Composer
Sarah Trilsch, Author


In stock, shipping in 1-2 days.

We offer free shipping!

Please read our General Terms and Conditions and Privacy Statement carefully.











One of the most experimental New Music ensembles releases an impressive new album on GENUIN. The musicians of LUX:NM explore the world of the abyss, of spookiness, of sneers, and bring to life music, noises and sound collages all about the underworld and fallen angels. All works – by renowned composers such as Gordon Kampe and Jan Brauer as well as collaborative works by the collective – have been recorded for the first time. Dark radiance, benign blackness and nasty brightness: a dance of hell, most virtuosically and sensuously performed!





Deutschlandfunk
On July 24 2021, the production "DARK LUX" was broadcastet as a collective listening theater on German public radio station Deutschlandfunk. A surreal audio piece with electronic sounds, whispers, chants, field recordings and improvised by LUX:NM, Gordon Kampe, Jan Brauer with texts by Sarah Trilsch Gylje. The theme: the abysses of the human soul. Click here to listen to the DLF production, hosted by Leonie Reineke.

Field Notes
... Over the course of Dark Lux, a tonal and musical variety unfolds that is unparalleled and yet cannot be found. (...) It is a real pleasure to be drawn down by this music.
July 2021

nmz - Neue Musikzeitung
The nice thing about this "audio piece" in 22 varied, darkly comical chapters is the mixture and it adds up to "DARK LUX" in compositions and improvisations, sound collages, field recordings, ominous ambient and cryptic music about music wonderfully macabre to a poetry of the Evil, mean and macabre together. (...) A devilishly good "concept album"!Review by Dirk Wieschollek June 2021

rbb Kultur
Saxophonist Ruth Velten in conversation
rbb Kultur, June 14, 2021

WDR 3 TonArt
SRuth Velten talks with Nele Freudenberger
WDR 3 TonArt June 14, 2021

B.Z.
"The music gripping, weird, between circus and industrial noise. In between tender singing voices, heart sounds and children's voices, which they have compiled in the relatives. 'A devilish hoax' is what they call it themselves."
A meeting with saxophonist Ruth Velten and accordionist Silke Lange with Dirk Krampitz from the Berlin newspaper B.Z., August 20, 2021.