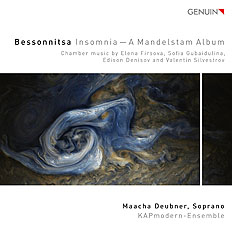 GEN 21741
EAN: 4260036257410
7.5.2021

| | |
| --- | --- |
| Sofia Gubaidulina (* 1931) | |
| Brief an die Dichterin Rimma Dalos for Soprano and Violoncello (1985) | |
| 01 | |
| 02 | |
| Elena Firsova (* 1950) | |
| "Sorrows" (Tristia II) for Soprano and Violoncello, Op. 145 (2013) | |
| Elena Firsova | |
| "Starry flute" – Monolog für Flöte solo, Op. 56 (1992) | |
| Elena Firsova | |
| "Towards the starlight" for Soprano and String Quartet, Op. 173 (2017) World Premiere | |
| I hate the starlight's | |
| How slow the horses go | |
| To read only children's books | |
| Elena Firsova | |
| "For Slava" for Double Bass, Op. 120a (2007/2018) | |
| Edison Denisov (1929–1996) | |
| "At the turning point" for Soprano and Piano (1979) | |
| Night | |
| The Name of God | |
| Winter Journey | |
| Silence (Silentium) | |
| Valentin Silvestrov (* 1937) | |
| "Bessonnitsa. Homer" for Soprano and Piano | |
| Elena Firsova | |
| "On the Path to Winter" for Piano solo, Op. 180 (2019) | |
| Elena Firsova | |
| "From the Voronezh Notebooks" for Soprano & String Quartet on Poems by O. Mandelstam, Op. 121 (2009) | |
| Prelude | |
| Greens | |
| A Cat | |
| The Sky | |
| Into the Sky | |
| Madness | |
| | |
Bessonnitsa | Insomnia — A Mandelstam Album
Chamber music by Elena Firsova, Sofia Gubaidulina, Edison Denisov and Valentin Silvestrov
Maacha Deubner, Soprano
KAPmodern-Ensemble
Katia Tchemberdji, Piano
Ehrengard von Gemmingen, Violoncello


In stock, shipping in 1-2 days.

We offer free shipping!

Please read our General Terms and Conditions and Privacy Statement carefully.










The musicians working with soprano Maacha Deubner take us to exotic worlds of sound on their new GENUIN CD, which is exclusively comprised of world premiere recordings. These include works by the Russian composer Elena Firsova and fellow composers, set in dialogue with the oeuvre of the poet Ossip Mandelstam. In addition to Firsova's works, we make acquaintance with music by Sofia Gubaidulina, Edison Denisov, and Valentin Silvestrov. Maacha Deubner and her colleagues from the KAPmodern ensemble of the Kammerakademie Potsdam devote themselves to the invariably highly expressive music, performing it with great seriousness and mastery.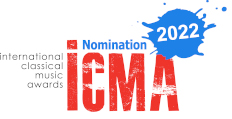 Maacha Deubner is nominated as Singer of the Year and Chamber Music Recording of the Year for Opus Klassik 2022


Between Sound and Space
"The music is at once a reflection of and counterpoint to the poetry, which looks deep into the night to uncover its many layers of shadow", Tyran Grillo for ECM Between Sound and Space, July 31, 2022

Frankfurter Allgemeine Zeitung
"Then Maacha Deubner starts singing and gifts the music with the
moonlight silver luster of her timbre all the beauty of the human voice", Jan Brachmann, FAZ, Januar 10, 2022

Richard Shaw
"Firsova's beautiful, wondrous music has the power and sensitivity of an extraordinary translator, shedding an imaginative, unexpected light on the words. (...) A unique CD, put together by the soprano Maacha Deubner. Highly recommended!", Richard Shaw, pianist and Russian translator, May 31, 2021

The Art Music Lounge
"Deubner is a superb singer. Her voice is fresh, clear and attractive without even a hint of unsteadiness about it, and wonder of wonders, her diction is as clear as a bell", Lynn René Bayley for The Art Music Lounge, May 4, 2021