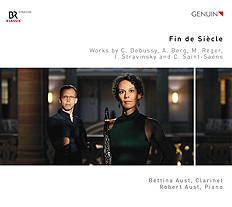 GEN 21729
EAN: 4260036257298
9.4.2021

| | |
| --- | --- |
| Claude Debussy (1862–1918) | |
| Première Rhapsodie for Clarinet and Piano (1910) | |
| Première Rhapsodie for Clarinet and Piano (1910) | |
| Four Pieces for Clarinet and Piano, Op. 5 (1913) | |
| Mäßig | |
| Sehr langsam | |
| Sehr rasch | |
| Langsam | |
| Max Reger (1873–1916) | |
| Sonata for Clarinet and Piano in F-sharp minor, Op. 49/2 (1900) | |
| Allegro dolente | |
| Vivacissimo | |
| Larghetto | |
| Allegro affabile | |
| Igor Stravinsky (1882–1971) | |
| Three Pieces for Clarinet Solo (1918) | |
| I | |
| II | |
| III | |
| Camille Saint-Saëns (1835–1921) | |
| Sonata for Clarinet and Piano in E-flat major, Op. 167 (1921) | |
| Allegretto | |
| Allegro animato | |
| Lento | |
| Molto allegro | |
| | |
Works by Claude Debussy, Alban Berg, Max Reger, Igor Stravinsky and Camille Saint-Saëns

Bettina Aust, Clarinet
Robert Aust, Piano


In stock, shipping in 1-2 days.

We offer free shipping!

Please read our General Terms and Conditions and Privacy Statement carefully.










The title of the album Fin de Siècle refers to the period around 1900, in which society experienced both upheaval and a sense of the end of time, as well as an adherence to traditional structures. Accordingly, compositions of Romanticism, Impressionism, atonal music, and echoes of jazz converge in this program featuring works composed over a period of 21 years.
After their debut CD in 2016, clarinetist Bettina Aust now presents her second CD together with pianist Robert Aust on GENUIN classics. The CD is a co-production with BR Klassik. The siblings have been playing as a duo for more than twenty years and are prize winners of international competitions.


The CD Fin de Siècle is nominated for the German Record Critics Award.





Bettina Aust and Robert Aust are nominated as Chamber Music Recording of the Year for Opus Klassik 2022




Fono Forum
"Ein wahrhaft mutiges Unterfangen für ein Debüt-Album!"
Review by Holger Arnold, July 2021

rbbKultur
On March 30 2021 Bettina Aust presented her new CD Fin de Siècle on rbbKultur. Click here to go to the broadcast.

Pizzicato
"Attractive program, excellently played: Supported by a well-balanced sound recording, Bettina Aust amazes not only with her virtuosity, but also with a wonderful breath control. She enriches her playing with all the necessary nuances and also impresses when it comes to her mastery of rhythm."
For the entire review by Remy Franck dated April 10, 2021, click here.

BR Classics
On April 8 2021, Bettina Aust was invited to be interviewed on Klassik Aktuell. Click here to go to the broadcast.