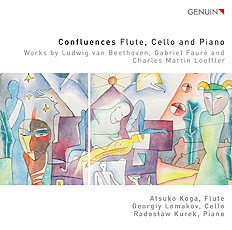 GEN 21749
EAN: 4260036257496
5.3.2021

| | |
| --- | --- |
| Gabriel Fauré (1845–1924) | |
| Piano Trio in D minor, Op. 120 (1922–1923) | |
| Allegro, ma non troppo | |
| Andantino | |
| Allegro vivo | |
| Charles Martin Loeffler (1861–1935) | |
| Two Rhapsodies (1901) | |
| L'Étang | |
| La cornemuse | |
| Ludwig van Beethoven (1770-1827) | |
| Trio in B-flat major, Op. 11 "Gassenhauer-Trio" (1798) | |
| Allegro con brio | |
| Adagio | |
| Tema: Pria ch'io l'impegno. Allegretto — Var. I–IX | |
| | |
Confluences—Flute, Cello and Piano
Works by Ludwig van Beethoven, Gabriel Fauré and Charles Martin Loeffler
Atsuko Koga, Flute
Georgiy Lomakov, Cello
Radoslaw Kurek, piano


In stock, shipping in 1-2 days.

We offer free shipping!

Please read our General Terms and Conditions and Privacy Statement carefully.










On their new GENUIN CD, the internationally award-winning flutist Atsuko Koga and her fellow musicians Georgiy Lomakov (cello) and Radoslaw Kurek (piano) bring together music by Ludwig van Beethoven, Gabriel Fauré, and Charles Martin Loeffler. The trio's airy, free sound with its unusual combination of instruments is a perfect match for the three works, which represent the piano trio genre in completely different ways: Beethoven's Gassenhauer Trio as an amusing and witty play on stereotypes of its time, Fauré's late work as a detached and intimate meditation, and finally Loeffler's misty impressionistic poems—an absolute discovery!