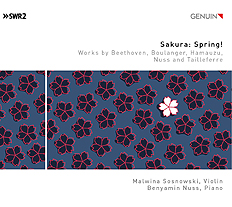 GEN 21747
EAN: 4260036257472
5.3.2021

| | |
| --- | --- |
| Lili Boulanger (1893–1918) | |
| D'un matin de Printemps for violin and piano (1918) | |
| Ludwig van Beethoven (1770–1827) | |
| Violin Sonata No. 5 in F major, Op. 24 "Spring" (1800–1801) | |
| Allegro | |
| Adagio molto espressivo | |
| Scherzo. Allegro molto | |
| Rondo. Allegro ma non troppo | |
| Malwina Sosnowski (*1985) and Benyamin Nuss (*1989) | |
| Intermezzo: Cadenza to Benyamin Nuss' "Elegy for Fukushima" (2020) | |
| Benyamin Nuss (*1989) | |
| Elegy for Fukushima (2011) | |
| Germaine Tailleferre (1892–1983) | |
| Sonata No. 1 (1921) | |
| I. Modéré sans lenteur | |
| II. Scherzo. Pas très vite et sans rigeur | |
| III. Assez lent | |
| IV. Final. Très vite | |
| Masashi Hamauzu (*1971) | |
| Four pieces for violin and piano around Sakura (2019) | |
| No. 1 | |
| No. 2 | |
| No. 3 | |
| No. 4 | |
| | |
Works by Beethoven, Boulanger, Hamauzu, Nuss and Tailleferre
Malwina Sosnowski, Violin
Benyamin Nuss, Piano


In stock, shipping in 1-2 days.

We offer free shipping!

Please read our General Terms and Conditions and Privacy Statement carefully.










In Japan, Sakura, the cherry blossom, symbolizes beauty, awakening and transience. The new GENUIN CD by the internationally successful musicians Malwina Sosnowski (violin) and Benyamin Nuss (piano) reflects aspects of the Japanese and European spring musically. Elan and freshness are united on the recording with the various nuances of the selected music. Beethoven's Spring Sonata and rarely heard repertoire by composers Germaine Tailleferre and Lili Boulanger are juxtaposed with the world premiere recording by Masashi Hamauzu as well as the centerpiece of the recording, "Elegy for Fukushima" by Benyamin Nuss, which commemorates the 2011 Japanese nuclear disaster.



Fono Forum
"Malwina Sosnowski and Benyamin Nuss offer the works with great freshness and liveliness, with sensitive melancholy and fine to subtle shadings."
Review by Jürgen Schaarwächter, July 2021

klassik-heute.de
"Sakura - Spring! This is the title of this CD, with which violinist Malwina Sosnowski and pianist Benyamin Nuss pay their respects to this season and especially to the time of the Japanese cherry blossom."
Read the entire review by Guido Krawinkel here!

WDR
"Malwina Sosnowski and Benyamin Nuss were guests on WDR and talked about their new CD Sakura: Spring!"
Listen to the complete interview here!

Pizzicato
"Violinist Malwina Sosnowski and pianist and composer Benyamin Nuss form a familiar performing duo that, by virtue of their own youthful spontaneity alone, can credibly convey this burgeoning seasonal life situation. With flawless technique as well as verve and freshness, they allow the music's many nuances to sprout and blossom."
Read the entire review by Uwe Krusch here!

Frühlingsblüten: CD-Tipp vom SRF
You can find more information here!