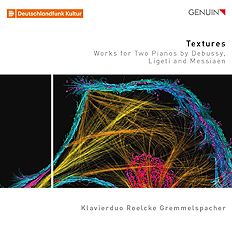 GEN 21714
EAN: 4260036257144
5.2.2021

| | |
| --- | --- |
| Claude Debussy (1862–1918) | |
| En blanc et noir (1915) | |
| Avec emportement | |
| Lent. Sombre | |
| Scherzando | |
| György Ligeti (1923–2006) | |
| Three Pieces for Two Pianos (1976) | |
| Monument | |
| Self Portrait with Reich and Riley (with Chopin in the background) | |
| In a gentle flowing movement | |
| Olivier Messiaen (1908–1992) | |
| Visions de l'Amen (1943) | |
| Amen de la Création | |
| Amen des étoiles, de la planète à l'anneau | |
| Amen de l'agonie de Jésus | |
| Amen du Désir | |
| Amen des anges, des saints, du chant des oiseaux | |
| Amen du Jugement | |
| Amen de la Consommation | |
| | |
Works for Two Pianos by Debussy, Ligeti and Messiaen
Irmela Roelcke, Piano
Axel Gremmelspacher, Piano


In stock, shipping in 1-2 days.

We offer free shipping!

Please read our General Terms and Conditions and Privacy Statement carefully.










The new GENUIN CD by the piano duo Roelcke-Gremmelspacher is not only part of an exciting, interdisciplinary research project on the subject of complexity but features above all exhilarating piano music for twenty fingers. The result is more than the sum of the individual parts: Ligeti (Three Pieces), intoxicated by speed, creates superordinate constructs; Debussy (En blanc et noir) piles up tonalities and layers of meaning; and Messiaen, in his breathtaking Visions de l'Amen, unleashes a veritable storm of color. Great literature, magnificently played!


MusicWeb international
"This is a fine recording and a very worthwhile programme, so if it attracts then by all means give it a go." Review by Dominy Clements.