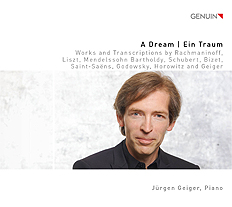 GEN 21726
EAN: 4260036257267
8.1.2021

| | |
| --- | --- |
| Sergei Rachmaninoff (1873–1943) / Jürgen Geiger (*1976) | |
| from 6 Romances | |
| A Dream, Op. 8, No. 5 | |
| Sergei Rachmaninoff (1873–1943) / Jürgen Geiger (*1976) | |
| from 2 Morceaux de salon | |
| Romance, Op. 6, No. 1 | |
| Franz Liszt (1811–1886) / Jürgen Geiger | |
| Hungarian Rhapsody No. 13 in A minor, S. 244 | |
| Jürgen Geiger | |
| Variations on Themes from Carl Maria von Weber's "Der Freischütz" | |
| Felix Mendelssohn Bartholdy (1809–1847) / Jürgen Geiger | |
| Fantasia on the Song "Auf Flügeln des Gesanges" | |
| Franz Schubert (1797–1828) / Franz Liszt | |
| Frühlingsglaube, S. 558, No. 7 | |
| Franz Schubert (1797–1828) / Franz Liszt | |
| Rastlose Liebe, S. 558, No. 10 | |
| Franz Schubert (1797–1828) / Franz Liszt | |
| Der Müller und der Bach, S. 565, No. 2 | |
| Franz Schubert / Leopold Godowsky (1870–1938) | |
| Moment Musical, Op. 94, No. 3 | |
| Georges Bizet (1838–1875) | |
| Carmen Variations after Vladimir Horowitz (1968 version) | |
| Camille Saint-Saëns (1835–1921) / Jürgen Geiger | |
| Le Rouet d'Omphale, Op. 31 | |
| Franz Liszt | |
| Hungarian Rhapsody No. 2 in C-sharp minor, S. 244 after Vladimir Horowitz | |
| Jürgen Geiger | |
| Tanz im Großen Saal | |
| | |
Works and Transcriptions by Rachmaninoff, Liszt, Mendelssohn Bartholdy, Schubert, Bizet, Saint-Saëns, Godowsky, Horowitz and Geiger

In stock, shipping in 1-2 days.

We offer free shipping!

Please read our General Terms and Conditions and Privacy Statement carefully.










In his new GENUIN CD, pianist Jürgen Geiger, who has appeared throughout Europe, explores the distinctions between composition, improvisation, creation, and re-creation. He presents virtuoso piano literature, including his own compositions and transcriptions. Among such arrangements are Saint-Saëns' Le rouet d'Omphale, one of Liszt's Hungarian Rhapsodies, and Mendelssohn's Auf Flügeln des Gesangs. Geiger's own music follows in the tradition of his role models Leopold Godowsky and Vladimir Horowitz, both of whom are represented here. The young pianist performs them with outstanding technique and a great sense of sound. A truly opulent menu for the piano!


ouverture
"So erklingt Geigers Musik in einer Reihe mit Stücken von Franz Liszt oder von Leopold Godowsky und Vladimir Horowitz. Der Pianist musiziert mit überragender Technik, Gespür für Klang und Sinn für Dramatik. Ganz großes Kino." Review from May 2021

MusicWeb
"He is evidently revelling in this music and the disc is full of kaleidoscopic colour and texture as well as entertaining and inventive virtuosity. There was once concern that Vladimir Horowitz and Earl Wild would be among the last to really embrace this style of transcription piano writing but thankfully it has blossomed anew with fresh generations of pianists taking up the challenge – Stephen Hough, Marc-André Hamelin, Vyacheslav Gryaznov, Arcadi Volodos are just four fine examples – and I would unhesitatingly add Jürgen Geiger's name to that list. More please!" Review by Rob Challinor

Deutschlandfunk Kultur
"A Dream / Ein Traum" was CD tip in the broadcast Tonart from 11. January 2021.