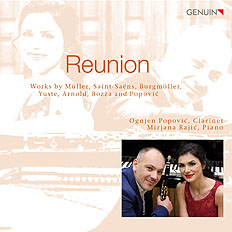 | | |
| --- | --- |
| Iwan Müller (1786–1854) | |
| Le château de Madrid, Op. 79 (1840) | |
| Camille Saint-Saëns (1835–1921) | |
| Clarinet Sonata in E-flat major, Op. 167 (1921) | |
| Allegretto | |
| Allegro animato | |
| Lento | |
| Molto allegro | |
| Norbert Burgmüller (1810–1836) | |
| Duo in E-flat major for Piano and Clarinet, Op. 15 (1834) | |
| Allegro | |
| Larghetto | |
| Allegro | |
| Miguel Yuste (1870–1947) | |
| Estudio Melódico, Op. 33 (1910–1915) | |
| Malcolm Arnold (1921–2006) | |
| Sonatina for Clarinet and Piano, Op. 29 (1951) | |
| Allegro con brio | |
| Andantino | |
| Furioso | |
| Eugène Bozza (1905–1991) | |
| Aria (1936) Transcribed for clarinet and piano | |
| Ognjen Popovic (*1977) | |
| Banat Dance (2015) | |
| Ognjen Popovic | |
| In My Heart (2018) | |
| | |
Works by Bozza, Burgmüller, Arnold, Müller, Popovic, Saint-Saëns and Yuste
Mirjana Rajic, Piano
Ognjen Popovic, Clarinet, Composer


In stock, shipping in 1-2 days.

Shipping only within the EU, UK, Switzerland, Norway
We offer free shipping!

Please read our General Terms and Conditions and Privacy Statement carefully.


Serbian pianist Mirjana Rajić and clarinetist Ognjen Popović serve up an exciting program of duo compositions on their new GENUIN CD, the second by Mirjana Rajić. Both prizewinners of numerous competitions travel musically throughout Europe and perform music by Camille Saint-Saëns, Norbert Burgmüller, Malcolm Arnold, and, last but not least, original compositions by Ognjen Popović. The range extends from sonata to character piece; the oldest piece is almost 200 years old, the youngest is from 2018.