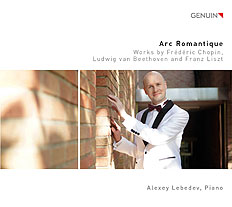 | | |
| --- | --- |
| Frédéric Chopin (1810-1849) | |
| Nocturne in B-flat minor, Op.9 (1832) | |
| No. 1 | |
| Ludwig van Beethoven (1770-1827) | |
| Piano Sonata in E major, Op. 109, No. 30 (1820) | |
| I. Vivace, ma non troppo | |
| II. Prestissimo | |
| III. Andante molto cantabile ad espressivo | |
| Franz Liszt (1811-1886) | |
| Années de pèlerinage II, S. 161/7 (1855) | |
| Aprés une lecture du Dante, Fantasia quasi Sonata | |
| Ludwig van Beethoven (1770-1827) | |
| Piano Sonata in A-flat major, Op. 110, No. 31 | |
| I. Moderato cantabile molto espressivo | |
| Ludwig van Beethoven (1770-1827) | |
| Piano Sonata in A-flat major, Op. 110, No. 3 | |
| II. Allegro molto | |
| III. Adagio ma non troppo | |
| Fuga: Allegro ma non troppo | |
| Frédéric Chopin (1810-1849) | |
| Polonaise No. 6 in A-flat major, Op. 53 | |
| Frédéric Chopin (1810-1849) | |
| Nocturne No. 20 in C-sharp minor, Op. Posth. | |
| | |
Works by Frédéric Chopin, Ludwig van Beethovn and Franz Liszt

In stock, shipping in 1-2 days.

Shipping only within the EU, UK, Switzerland, Norway
We offer free shipping!

Please read our General Terms and Conditions and Privacy Statement carefully.









On his first GENUIN CD, the versatile pianist Alexey Lebedev demonstrates how broadly one can grasp the concept of romanticism. The prizewinner of international competitions spans a wide range of well-known and loved works of the 19th century on his CD: from Ludwig van Beethoven's Sonatas op. 109 and 110 to the nocturnes and a polonaise by Frédéric Chopin and Franz Liszt's Dante Sonata. The eloquence of Beethoven's late works, Chopin's romantic character pieces, and Liszt's literary and musical reflections, together with Lebedev's clear interpretation, allow the boundaries between classical and romantic, and between absolute and program music to merge!