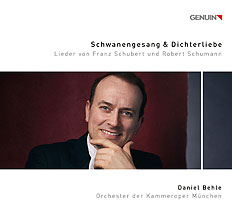 | | |
| --- | --- |
| Franz Schubert (1797-1828) | |
| Schwanengesang D 957 (1828) | |
| Liebesbotschaft | |
| Kriegers Ahnung | |
| Frühlingssehnsucht | |
| Ständchen | |
| Aufenthalt | |
| In der Ferne | |
| Abschied | |
| Der Atlas | |
| Ihr Bild | |
| Das Fischermädchen | |
| Die Stadt | |
| Am Meer | |
| Der Doppelgänger | |
| Die Taubenpost | |
| Robert Schumann (1810-1856) | |
| Dichterliebe op. 48 (1840) | |
| Im wunderschönen Monat Mai | |
| Aus meinen Tränen sprießen | |
| Die Rose, die Lilie, die Taube, die Sonne | |
| Wenn ich in deine Augen seh' | |
| Ich will meine Seele tauchen | |
| Im Rhein, im heiligen Strome | |
| Ich grolle nicht | |
| Und wüßten's die Blumen | |
| Das ist ein Flöten und Geigen | |
| Hör' ich das Liedchen klingen | |
| Ein Jüngling liebt ein Mädchen | |
| Am leuchtenden Sommermorgen | |
| Ich hab' im Traum geweinet | |
| Allnächtlich im Träume | |
| Aus alten Märchen winkt es | |
| Die alten, bösen Lieder | |
| | |
Schwanengesang & Dichterliebe
Lieder by Franz Schubert and Robert Schumann
Daniel Behle, Tenor
Kammeroper München
Christophe Gördes, Director
Alexander Krampe, Arranger


In stock, shipping in 1-2 days.

Shipping only within the EU, UK, Switzerland, Norway
We offer free shipping!

Please read our General Terms and Conditions and Privacy Statement carefully.









The star tenor Daniel Behle sings for the first time here in a GENUIN production. Together with the orchestra of the Kammeroper München, he interprets two of the most beautiful song cycles ever, namely Franz Schubert's Schwanengesang and Robert Schumann's Dichterliebe. In both cycles, Alexander Krampe transforms the original piano accompaniment into an exciting orchestral arrangement. This is best supported by the sonorous and supple voice of Daniel Behle: from the delicate weaving of Schubert's Liebesbotschaft to the pale surfaces of his Doppelgänger to the cutting rhythms of Schumann's Die alten, bösen Lieder.