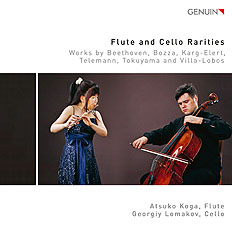 | | |
| --- | --- |
| Heitor Villa-Lobos (1887–1959) | |
| Bachianas Brasileiras No. 6, W392 (1938) | |
| Ária (chôro) | |
| Fantasia (Allegro) | |
| Eugène Bozza (1905–1991) | |
| Contrastes I (1977) | |
| Andante | |
| Moderato | |
| Allegretto | |
| Largetto sostenuto | |
| Calme | |
| Allegretto | |
| Allegro | |
| Eugène Bozza | |
| Image for Solo Flute, Op. 38 (1940) | |
| Sigfrid Karg-Elert (1877–1933) | |
| from 30 Caprices for Flute Solo, Op. 107 (c. 1918) | |
| Chaconne for Solo Flute | |
| Georg Philipp Telemann (1681–1767) | |
| Canonic Sonata in D major, TWV 40:119 from 18 Canons Mélodieux, TWV 40:118–123 (1738) | |
| Spirituoso | |
| Larghetto | |
| Allegro Assai | |
| Minako Tokuyama (*1958) | |
| La Vie du Papillon for Solo Flute (2016) | |
| World Premiere Recording | |
| Minako Tokuyama | |
| Atsumori for Solo Flute (2016) | |
| World Premiere Recording | |
| Minako Tokuyama | |
| Nocturne for Solo Flute (1984) | |
| World Premiere Recording | |
| Ludwig van Beethoven (1770–1827) | |
| from Duett mit zwei obligaten Augengläsern, WoO 32 (1796) ("Eyeglass Duet") | |
| Allegro | |
| | |
Works by Beethoven, Bozza, Karg-Elert, Telemann, Tokuyama and Villa-Lobos
Atsuko Koga, Flute
Georgiy Lomakov, Cello


In stock, shipping in 1-2 days.

Shipping only within the EU, UK, Switzerland, Norway
We offer free shipping!

Please read our General Terms and Conditions and Privacy Statement carefully.







The flute, one of the most versatile instruments of all, is the focus of the new GENUIN CD by Japanese flutist Atsuko Koga. The winner of international competitions presents a distinctive mixture of original compositions and arrangements together with cellist Georgiy Lomakov that range from Telemann and Beethoven to Villa-Lobos and world premiere recordings by Minako Tokuyama. Whether it is birdsong, soulful cantilenas, virtuoso passagework, or noisy musical magic, the choice of works and the clear, vibrant interpretations of the two artists demonstrate the flute's and cello's many facets.