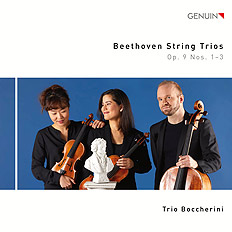 | | |
| --- | --- |
| Ludwig van Beethoven (1770–1827) | |
| String Trio in G major, Op. 9, No. 1 (1797–98) | |
| Adagio – Allegro con brio | |
| Adagio, ma non tanto, e cantabile | |
| Scherzo. Allegro | |
| Presto | |
| Ludwig van Beethoven | |
| String Trio in D major, Op. 9, No. 2 (1797–98) | |
| Allegretto | |
| Andante quasi Allegretto | |
| Menuetto. Allegro | |
| Rondo. Allegro | |
| Ludwig van Beethoven | |
| String Trio in C minor, Op. 9, No. 3 (1797–98) | |
| Allegro con spirito | |
| Adagio con espressione | |
| Scherzo. Allegro molto e vivace | |
| Finale. Presto | |
| | |
Op. 9 Nos. 1–3

In stock, shipping in 1-2 days.

Shipping only within the EU, UK, Switzerland, Norway
We offer free shipping!

Please read our General Terms and Conditions and Privacy Statement carefully.











With its first of two GENUIN CDs, the Trio Boccherini proves that Beethoven's string trios are more than technical exercises by the composer along the way to writing quartets. Opus 9 is a rarely recorded and performed early work by the master, and yet they already reveal Beethoven in his entirety, as it were, in a tonally condensed form. The ensemble, comprising of members from three different continents, bring together diverse aspects of their musical experiences, culminating in this colorful yet unified interpretation.




WDR3 Tonart
Dieses immer-wieder-neu-ansetzen, fragen, reden, an Gedanken hängen bleiben setzt das Boccherini Trio absolut glaubwürdig um. Das ist eine Stärke des Ensembles, die durchweg auf der Aufnahme erkennbar ist.
Besprechung von Nele Freudenberger, 23. Juni 2020


Deutschlandfunk Kultur
Herz und Verstand. Beim Trio Boccherini verbindet sich beides organisch und logisch.
Besprechung von Elisabeth Hahn, 29. Juni 2020


BBC 3
On 2 May 2020 Radio BBC 3 reviewed the new CD by the Trio Boccherini. Here you can listen to the review.