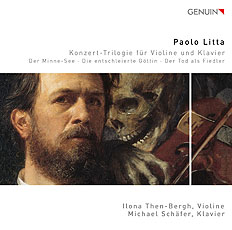 | | |
| --- | --- |
| Paolo Litta (1871–1931) | |
| I. Le Lac d'Amour – Der Minne-See (1909) | |
| Le Lac (Der See) | |
| Le Cygne (Der Schwan) | |
| Cloches d'Antan (Die verklungenen Glocken) | |
| La Source qui pleure (Die weinende Quelle) | |
| Paolo Litta | |
| II. La Déesse Nue – Die entschleierte Göttin (1912) | |
| Paolo Litta | |
| III. Der Tod als Fiedler – Le Ménétrier, la Mort (1924) | |
| | |
Concert Trilogy: Der Minne-See, Die entschleierte Göttin, Der Tod als Fiedler
Ilona Then-Bergh, Violin
Michael Schäfer, Piano


In stock, shipping on January 8th.

We offer free shipping worldwide!
Please read our General Terms and Conditions and Privacy Statement carefully.


Exceeding its length, arrogant its dedicators ("A Leonardo da Vinci" - "His Majesty, the Dead"), ruthlessly the mix of styles between medieval minstrel music and musique concrète, beguiling its beauty and frightening its brutality - this is the fascinating music of Paolo Litta that awaits you on this CD. Written by a previously completely unknown composer, rediscovered by Michael Schäfer and now recorded for the first time by Ilona Then-Bergh and himself for his edition un!erhört at GENUIN.
Let yourself be carried away by the congenial interpretation of a composition that is as diverse as what it symbolises: the whole of human life...