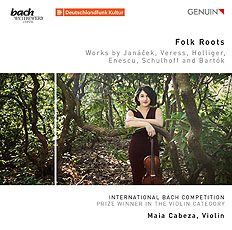 | | |
| --- | --- |
| Leoš Janácek (1854–1928) | |
| Sonata for Violin and Piano (1922) | |
| Con moto | |
| Ballada. Con moto | |
| Allegretto | |
| Adagio | |
| Sándor Veress (1907–1992) | |
| Sonata for Solo Violin (1935) | |
| Allegro | |
| Adagio | |
| Allegro molto | |
| Heinz Holliger (*1939) | |
| COncErto? (2000–01) | |
| Frühlingstanz (unstet) | |
| George Enescu (1881–1955) | |
| Airs dans le genre roumain (1926) | |
| Moderato – Molto rubato | |
| Allegro giusto | |
| Andante | |
| Allegro giocoso | |
| Erwin Schulhoff (1894–1942) | |
| Sonata for Solo Violin, WV 83 (1927) | |
| Allegro con fuoco | |
| Andante sostenuto | |
| Scherzo: Allegretto grazioso | |
| Finale: Allegro risoluto | |
| Béla Bartók (1881–1945) | |
| Rhapsody No. 2 for Violin and Piano, Sz. 90 (1928) | |
| Lassú. Moderato | |
| Friss. Allegro moderato | |
| | |
Works by Janacék, Veress, Holliger, Enescu, Schulhoff and Bartók
Maia Cabeza, Violin
Zoltán Fejérvári, Piano
Alexandros Giovanos, Percussion


In stock, shipping on January 8th.

We offer free shipping worldwide!
Please read our General Terms and Conditions and Privacy Statement carefully.








The composers Maia Cabeza unites on her debut CD come from the Czech Republic, Hungary and Romania. She traces the musical traditions that flowed into the compositions of the 1920s and 1930s by Janáček, Veress, Holliger, Enescu, Schulhoff and Bartók. The exception in this picture is Heinz Holliger's sparkling Spring Dance of 2001: a very unique approach to the musical heritage of his native Switzerland. The Canadian-American violinist Maia Cabeza, winner of the 2018 Johann Sebastian Bach Competition, together with Zoltán Fejérvári on the piano, makes these different influences delicately audible.