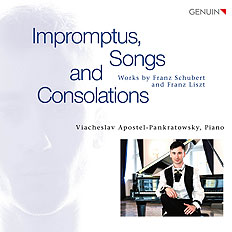 | | |
| --- | --- |
| Franz Schubert (1797–1828) | |
| Impromptus op. 90, D. 899 (1827) | |
| Impromptu in C minor, Allegro molto moderato | |
| Impromptu in E-flat major, Allegro | |
| Impromptu in G-flat major, Andante | |
| Impromptu in A-flat major, Allegretto | |
| Franz Liszt (1811–1886) | |
| Transcriptions of 5 Franz Schubert Songs (1837/38) | |
| Barcarolle (To sing on the water) | |
| Ständchen von Shakespeare (Hark, hark! the lark) | |
| Gretchen am Spinnrade | |
| Ständchen (from the song cycle "Schwanengesang" [Swan Song]) | |
| Ave Maria (Ellens Gesang III – Hymn to the Virgin) | |
| Franz Liszt | |
| Consolations, S. 172 (1849/50) | |
| Andante con moto, E major | |
| Un poco più mosso, E major | |
| Lento placido, D-flat major | |
| Quasi Adagio, D-flat major | |
| Andantino, E major | |
| Allegretto sempre cantabile, E major | |
| | |
Impromptus, Songs and Consolations
Works by Franz Schubert and Franz Liszt
Viacheslav Apostel-Pankratowsky, Piano


In stock, shipping on January 8th.

We offer free shipping worldwide!
Please read our General Terms and Conditions and Privacy Statement carefully.









The cosmopolitan Franz Liszt and the unpretentious Franz Schubert couldn't have been more unlike in terms of lives that they led. But with their musical oeuvre, they maintain a symbiotic relationship to this day: Schubert's works were always an inspiring, "magnificent treasure" to Liszt, which he was very fond of sharing with the world. Therefore Liszt was an advocate of Schubert's reception wherever possible. On concert tours, he also always had Schubert's music with him, including many lieder as piano transcriptions. Viacheslav Apostel-Pankratowsky traces the synergies of this artistic alliance on his debut CD with GENUIN: with exceptional reserve, energetic musical language, and warm nuance.