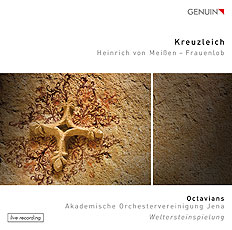 GEN 19657
EAN: 4260036256574
7.6.2019

| | |
| --- | --- |
| Heinrich von Meißen (ca. 1250–1318) | |
| Kreuzleich | |
| Wie wunder wernder süze ursprinc | |
| Wie vor der zit geselle | |
| Sam von der sunnen tut der schin | |
| Den sun. David in geiste gicht | |
| Sprich, vaterlich persone | |
| Is, wazzer, sne sich vrien | |
| Wer nerte, Jona, dich in visches wamme? | |
| Isaias, wer was der seraph, der sich dir erscheinte | |
| sage, Israhel, berichte mich | |
| Des vater zorngejeide | |
| Alrerst viel der reine, wise, starke, gute | |
| Der blumen glanz gar sunder schranz belibet | |
| Got spranc uz sinem vater in sin ewekeit | |
| Gelichen sich der slangen slingen, winden er hie wolde | |
| Adam biltsam vernam: er gram | |
| Stoz uf die hant! dir wirt bekant des criuzes rant | |
| Cypressus, cedrus, palmenboum | |
| Got sin öl und sinem cresem | |
| Sust wart der tot erwecket | |
| Zwei uber haten tiefen tal | |
| Helenen vinden, daz kan binden | |
| Becriste, criuze, uns cristen | |
| | |
Heinrich von Meißen – Frauenlob
World Premiere Recording
Octavians, Vocal Ensemble
Akademische Orchestervereinigung Jena
Sebastian Krahnert, Conductor
Andreas Kuch, Organ
Karsten Gundermann, Composer


In stock, shipping in 1-2 days.

We offer free shipping!

Please read our General Terms and Conditions and Privacy Statement carefully.








The Kreuzleich by Heinrich "Frauenlob" von Meissen is over 700 years old, making it one of the oldest surviving oratorios of the German cultural sphere. Known up to now only as a silent fragment of Meistersinger history, composer Karsten Gundermann, together with the multi-award-winning a cappella ensemble Octavians, brings it to life for our present time: Gundermann has revamped Frauenlob's notated melodies and fragmentary manuscripts into a fascinating work for soloists, chamber choir, and orchestra, and the result is sensational! With their three countertenors and supported by the Akademische Orchestervereinigung Jena, the Octavians create a lively blend of age-old and new, of archaic sounds and orchestral colors sung and played at the highest level.

Here you can read the English transation of the Kreuzleich lyrics.