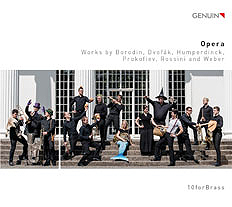 | | |
| --- | --- |
| Carl Maria von Weber (1786–1826) | |
| Der Freischütz, Op. 77 (1817–1821) | |
| Overture | |
| Antonín Dvorák (1841–1904) | |
| Rusalka, Op. 114 (1900) | |
| The Wood Sprites by the Forest Lake (Die Elfen am Waldsee) | |
| Song to the Moon (Lied an den Mond) | |
| In the Castle Garden (Im Schloßpark) | |
| Dance in the Ballroom (Tanz im Festsaal) | |
| Alexander P. Borodin (1833–1887) | |
| Prince Igor (1869–1887) | |
| Overture | |
| Sergei Prokofiev (1891–1953) | |
| The Love for Three Oranges, Op. 33 (1919) | |
| The Ridicules (Die Narren) | |
| Infernal Scene (Höllische Szene) | |
| March (Marsch) | |
| Flight (Die Flucht) | |
| Engelbert Humperdinck (1854–1921) | |
| Hänsel and Gretel (1891–1892) | |
| Abendsegen | |
| Pantomime (Die vierzehn Engel) | |
| Gioachino Rossini (1792–1868) | |
| Guillaume Tell (1824–1829) | |
| Overture | |
| | |
Works by Borodin, Dvorák, Humperdinck,
Prokofiev, Rossini and Weber

In stock, shipping in 1-2 days.

Shipping only within the EU, UK, Switzerland, Norway
We offer free shipping!

Please read our General Terms and Conditions and Privacy Statement carefully.








Everything is possible on stage. At least that's our impression upon hearing the members of the young, award-winning brass ensemble 10forBrass. On their new (third) GENUIN release, no woodwind run is too fast for them and no string pianissimo too soft: they are both witches and kings, mermaids and jesters, angels and huntsmen. From Carl Maria von Weber to Sergei Prokofiev, no music theatre work is safe from the brass virtuosi – whatever isn't bolted to the floor is fair game for the sizeable brass ensemble. Each opera scene is more beautiful than the next: simply ravishing!