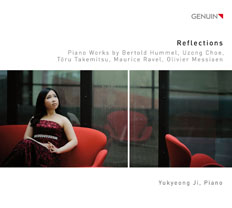 GEN 18609
EAN: 426003625
6.7.2018

| | |
| --- | --- |
| Bertold Hummel (1925–2002) | |
| Drei Klavierstücke "hommage à Alban Berg", Op. 83 (1985) | |
| Fantasia | |
| Giocoso | |
| Sostenuto | |
| Uzong Choe (*1968) | |
| Préludes VII and XXV | |
| Prélude VII (2004) | |
| Prélude XXV "Le miroir dans l'eau" (2017) | |
| Toru Takemitsu (1930–1996) | |
| For Away (1973) | |
| Maurice Ravel (1875–1937) | |
| Miroirs (1905) | |
| Noctuelles | |
| Oiseaux tristes | |
| Une barque sur l'océan | |
| Alborada del gracioso | |
| La vallée des cloches | |
| Olivier Messiaen (1908–1992) | |
| from Vingt Regards sur l'Enfant-Jésus (1944) | |
| VI . Par Lui tout a été fait | |
| | |
Works by Bertold Hummel, Uzong Choe, Toru Takemitsu, Maurice Ravel, Olivier Messiaen

In stock, shipping in 1-2 days.

We offer free shipping!

Please read our General Terms and Conditions and Privacy Statement carefully.








The young pianist Yukyeong Ji has already had an impressive career. However, despite all the prizes and hymns of praise from the critics, she does not lose her footing. Her debut CD, featuring extremely rare repertoire by Uzong Choe, Toru Takemitsu, Bertold Hummel, Maurice Ravel and Olivier Messiaen, proves this. We experience fascinating reflections in this music, which sheds new light on other works of music or traces non-musical contents. Yukyeong Ji plays crystal clear and with broad phrases. She breathes life into sophisticated literature and captivates the listener. Exceptional!

Blog Ouvertüre
"Sehr beeindruckend!"
Read the whole review here.