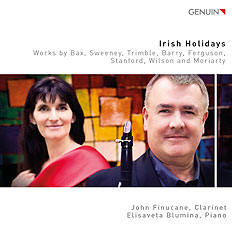 GEN 18495
EAN: 4260036254952
6.4.2018

| | |
| --- | --- |
| Arnold Bax (1883–1953) | |
| Sonata for Clarinet and Piano in D major (1934) | |
| Molto moderato | |
| Vivace | |
| Eric Sweeney (*1948) | |
| Duo for Clarinet and Piano (1991) | |
| Joan Trimble (1915-2000) | |
| The Pool among the Rushes for Clarinet and Piano (1940) | |
| Gerald Barry (*1952) | |
| Trumpeter for Clarinet Solo | |
| Howard Ferguson (1908–1999) | |
| Four Short Pieces, Op. 6 for B-flat Clarinet and Piano (1932–36) | |
| Prelude: Non troppo allegro | |
| Scherzo: Allegro molto | |
| Pastoral: Allegretto | |
| Burlesque: Con Spirito | |
| Gerald Barry | |
| Low for Clarinet and Piano (1991) | |
| Charles Villiers Stanford (1852–1924) | |
| Clarinet Sonata, Op. 129 for Clarinet and Piano (1911) | |
| Allegro moderato | |
| Caoine (Adagio, quasi Fantasia) | |
| Allegretto grazioso | |
| James Wilson (1922–2005) | |
| Three Playthings, Op. 97 for Clarinet Solo (1983) | |
| I | |
| II | |
| III | |
| Christopher Moriarty (*1993) | |
| Opaque Rhapsody for Clarinet and Piano (2016) | |
| | |
Works by Bax, Sweeney, Trimble, Barry, Ferguson, Moriarty, Stanford and Wilson
John Finucane, Clarinet
Elisaveta Blumina, Piano


In stock, shipping in 1-2 days.

We offer free shipping!

Please read our General Terms and Conditions and Privacy Statement carefully.








Ireland is not only the green island, but also the land of legends and singers. All this is reflected on the second GENUIN CD by the Irish clarinetist John Finucane. The exceptional wind player brings together music from his homeland from 1911 to the present day. Without exception, these are genuine discoveries, and not only because of the world premiere recordings and works written for John Finucane. Even in the most modern of times, the magic of the past is still alive, and contemporary musical language is inspired by the spirit of the Irish harpists: from Stanford to Bax, from Ferguson to Trimble. An Irish blessing!

Musicweb April/2018
"This is an excellent introduction to music for clarinet and piano, written by Irish or English composers, but inspired by a broad range of musical influences. The performance of the Stanford, Ferguson and Bax is the heart of this CD, but the other works are worthy of gaining a place in the repertoire of all clarinettists and their accompanists." Read more here on the website of Musicweb international.