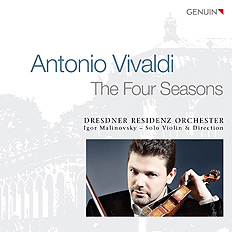 GEN 18553
EAN: 4260036255539
2.2.2018

| | |
| --- | --- |
| Antonio Vivaldi (1678–1741) | |
| The Four Seasons (1723) – Violin Concerto, Op. 8 No. 1, RV 269 "Spring" | |
| Allegro | |
| Largo e pianissimo sempre | |
| Allegro | |
| Antonio Vivaldi | |
| The Four Seasons – Violin Concerto, Op. 8 No. 2, RV 315 "Summer" | |
| Allegro non molto | |
| Adagio | |
| Presto | |
| Allegro | |
| Antonio Vivaldi | |
| The Four Seasons – Violin Concerto, Op. 8 No. 3, RV 293 "Autumn" | |
| Adagio | |
| Allegro | |
| Antonio Vivaldi | |
| The Four Seasons – Violin Concerto, Op. 8 No. 3, RV 297 "Winter" | |
| Allegro non molto | |
| Largo | |
| Allegro | |
| | |
The Four Seasons
Igor Malinovsky, Violin
DRESDNER RESIDENZORCHESTER


In stock, shipping in 1-2 days.

We offer free shipping!

Please read our General Terms and Conditions and Privacy Statement carefully.








For the second time, the violinist and jack-of-all-trades Igor Malinovsky releases a CD on GENUIN. The brilliant production of Russian violin sonatas is now followed by a marvelous classic of the concertante violin repertoire: Vivaldi's most famous concerts, the Four Seasons. Malinovsky's violin merges with the instruments of the Dresden Residence Orchestra, which he founded, to form an incredible unity. Everything sounds historically informed, but not dry, musical, but not romanticized. A recording as fresh as a spring rain!