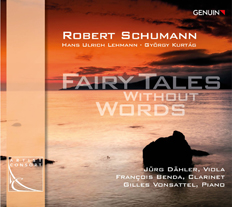 GEN 17485
EAN: 4260036254853
3.11.2017

| | |
| --- | --- |
| Robert Schumann (1810–1856) | |
| Märchenbilder, Op. 113 for viola and piano (1851) | |
| Nicht schnell | |
| Lebhaft | |
| Rasch | |
| Langsam, mit melancholischem Ausdruck | |
| Hans Ulrich Lehmann (1937–2013) | |
| "without words", seven songs for viola and piano (2011) | |
| I | |
| II | |
| III | |
| IV The moon | |
| V Nightpiece | |
| VI Tutto è sciolto | |
| VII The twilight | |
| Robert Schumann | |
| Märchenerzählungen, Op. 132 for clarinet, viola and piano (1853) | |
| Lebhaft, nicht zu schnell | |
| Lebhaft und sehr markiert | |
| Ruhiges Tempo, mit zartem Ausdruck | |
| Lebhaft, sehr markiert | |
| György Kurtág (*1926) | |
| Hommage à R. Sch., Op. 15d for clarinet (also bass drum), viola and piano (1990) | |
| 1. Vivo (Merkwürdige Pirouetten des Kapellmeisters Johannes Kreisler) | |
| 2. Molto semplice, piano e legato (Eusebius: der begrenzte Kreis…) | |
| 3. Feroce, agitato (… und wieder zuckt es schmerzlich Florestan um die Lippen …) | |
| 4. Calmo, scorrevole (Ich war eine Wolke … jetzt scheint die Sonne) | |
| 5. Presto (In der Nacht) | |
| 6. Adagio, poco Andante (Abschied: Meister Raro entdeckt Guillaume de Machaut) | |
| | |
Fairy Tales Without Words
Works by Robert Schumann, Hans Ulrich Lehmann and György Kurtág
Jürg Dähler, violin, viola
François Benda, clarinet
Gilles Vonsattel, piano


In stock, shipping in 1-2 days.

We offer free shipping!

Please read our General Terms and Conditions and Privacy Statement carefully.



Musicians Jürg Dähler, Gilles Vonsattel, and François Benda journey to the outer limits of what can be sung or heard in their new GENUIN Artist Consort release—for François Benda already his seventh CD in the splendid series! The disc brings together truly Romantic music by Robert Schumann and Györgi Kurtág along with the world premiere recording of Hans Ulrich Lehmann's "without words", a commentary on Schumann's Märchenbilder. The three artists bring out the composers' subtle strokes with incredible tenderness and boundless energy as we are alternately touched, inspired, and captivated—a window onto the world of fairy tales just the way E.T.A. Hoffmann could have imagined . . .

Schweizer Musikzeitung / 8/2018
"Incontestablement une réussite!" Lesen Read the review here on the Website of Schweizer Musikzeitung.