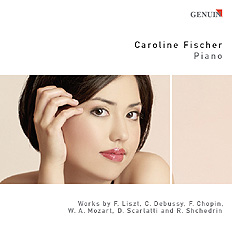 | | |
| --- | --- |
| Franz Liszt | |
| La Campanella | |
| Domenico Scarlatti | |
| Sonata in D Minor K 141 | |
| Franz Liszt | |
| Reminiscences du Don Juan | |
| W.A. Mozart | |
| Sonata in A Minor KV 310 | |
| Allegro maestoso | |
| Andante cantabile con espressione | |
| Presto | |
| Claude Debussy | |
| Préludes | |
| Les fées sont d`exquises danseuses | |
| General Lavine – excentric | |
| Feux d`artifice | |
| Frédéric Chopin | |
| Etude Op.10 No.1 in C major | |
| Franz Liszt | |
| Hungarian Rhapsody No.13 in A minor | |
| Rodion Shchedrin | |
| Basso Ostinato (1961) | |
| | |
Caroline Fischer - Debut CD
Piano Works by F. Liszt, C. Debussy, F. Chopin, W. A. Mozart, D. Scarlatti and R. Schedrin

In stock, shipping in 1-2 days.

Shipping only within the EU, UK, Switzerland, Norway
We offer free shipping!

Please read our General Terms and Conditions and Privacy Statement carefully.


A young star performing the repertoire of a seasoned recitalist. Caroline Fischer definitely sets a high standard in her debut CD with Genuin: the works of Franz Liszt form the framework of her program which could produce gray hairs with some established pianists...With youthful nonchalance, breathtaking virtuosic bravura and founded on immense musicality, the Berlin pianist breathes new, glowing life into the works of legendary pianist-composers Chopin, Mozart and Scarlatti. Simply thrilling.

Resmusica.com
"Right from the very first bars, the listener is gripped by Caroline Fischer's interpretation of Liszt's "Campanella". She is an exceptional artist, this much is certain. Caroline Fischer's interpretations are profound, powerful and expressive; in every respect they do justice to the spirit and score of the composers selected. [...] Without doubt, Caroline Fischer already belongs to the most outstanding great artists of her profession."
Review by Jean-Luc Caron on resmusica.com, 8 October 2006

Klassik.com
"The pianist clearly demonstrates her excellent artistic calibre with her first recording. She masters all the technical demands of the literature in a most impressive manner, with a somnambulistic certainty coupled with a controlled touch."

Klassik-heute.com
"An interpreter whose performances decisively separate her from the mass of other talented, industrious pianists. She performs her programme, which contains a number of virtuoso masterpieces, not only with propriety, but also with a commanding degree of imagination which compels the fastidiously listener to sit up and take notice. Caroline Fischer has something to say across the whole board of the musical literature presented here, she endows the "Hungarian No. 13" with flair and gypsylike pathos, not only in the short grace notes, but also in the dance-like, frivolous finale. She knows how to colour the dramatic vicissitudes of the Don Juan fantasy and to make them stand out from one another - piano-playing of a high degree of solidity and, in the decisive moments, also of a certain ignitable, burning power."