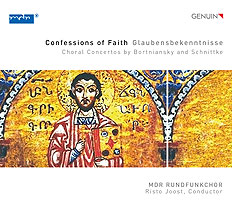 | | |
| --- | --- |
| Dmitry Bortniansky (1751-1825) | |
| Concerto No. 9 | |
| Allegro moderato – Andante "This ist the day that the Lord has made" | |
| Dmitry Bortniansky | |
| The Cherubic Hymn No. 7 | |
| Adagio – Allegro maestoso "We, mystically representing the Cherubim" | |
| Dmitry Bortniansky | |
| Concerto No. 24 | |
| Adagio – Andante moderato – Allegro maestoso "I lift up my eyes to the mountains" | |
| Alfred Schnittke (1934-1998) | |
| Concerto for Choir | |
| I Andante "O Lord of all living things, bestowing precious gifts upon us" | |
| II Andante "These songs, with verses which black sadness fills to the brim" | |
| III Andante mosso "All those who grasp the nature of this work" | |
| IV Lento molto "This work, which I began full of hope and in your name, you shall complete" | |
| | |
Choral Concertos by Bortniansky and Schnittke
MDR Rundfunkchor
Risto Joost, Conductor


In stock, shipping in 1-2 days.

Shipping only within the EU, UK, Switzerland, Norway
We offer free shipping!

Please read our General Terms and Conditions and Privacy Statement carefully.




The first release by the MDR Radio Chorus under its new director Risto Joost is not just a confession of faith, but truly a confession of sound as well: the ensemble's second GENUIN release presents Russian sacred music. What impressive musical contrasts we hear in the remarkable acoustics of Leipzig's Paul Gerhardt Church: distinctive contours from the too-little-known classicist Dmitry Bortniansky (1751–1825) feature alongside the monumental blocks of sound and etheric soundscapes of Alfred Schnittke's Concerto for Choir. Both works bear witness not only to the power of faith, but also of music, interpreted by the MDR Radio Chorus with eloquence, sparkling precision, and total commitment – absolutely recommended!