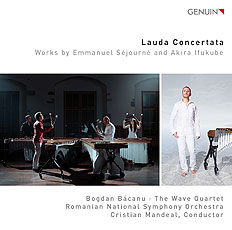 GEN 16441
EAN: 4260036254419
4.11.2016

| | |
| --- | --- |
| Emmanuel Séjourné (*1961) | |
| Concerto for Marimba Solo and Strings (2004) | |
| Marimba: Bogdan Bácanu (World Premiere Recording) | |
| Emmanuel Séjourné | |
| "GOTAN" Concerto for Marimba Quartet | |
| The Wave Quartet (World Premiere Recording) | |
| Akira Ifukube (1914–2006) | |
| Lauda Concertata for Marimba Solo and Orchestra | |
| Marimba: Bogdan Bácanu | |
| | |
Works by Emmanuel Séjourné and Akira Ifukube
Bogdan Bácanu, Marimba
The Wave Quartet, Marimba and Percussion
Romanian National Symphony Orchestra
Cristian Mandeal, Conductor


In stock, shipping in 1-2 days.

We offer free shipping!

Please read our General Terms and Conditions and Privacy Statement carefully.




Following their successful first GENUIN release Loco, the Wave Quartet is turning on the heat – when we hear them, we'd be forgiven for mistaking the marimba and percussion quartet for a full-fledged orchestra. Joining together with Bogdan Bácanu, the world's youngest marimba professor and winner of many international competitions, the world-class musicians have committed two world premiere recordings to CD – concertos by Emmanuel Séjourné where they give full rein to their brilliant and varied malletwork. Romantic, with plenty of humor, groove, and feeling – an inspiration for percussion fans and music lovers everywhere!