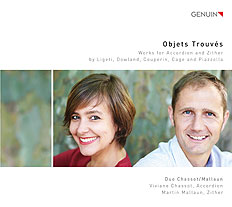 GEN 16439
EAN: 4260036254396
2.9.2016

| | |
| --- | --- |
| György Ligeti (1923-2006) | |
| Musica ricercata VIII | |
| György Ligeti | |
| Musica ricercata I | |
| John Dowland (1563–1626) | |
| Lachrimæ Antiquæ | |
| John Dowland | |
| The King of Denmark's Galiard | |
| John Dowland | |
| Preludium | |
| John Dowland | |
| Lachrimæ Veræ | |
| John Dowland | |
| M. Giles Hobie's Galiard | |
| François Couperin (1668–1733) | |
| Muséte de Choisi and Muséte de Taverni | |
| François Couperin | |
| La Julliet | |
| John Cage (1912–1992) | |
| Chess Pieces | |
| Astor Piazzolla (1921–1992) | |
| Libertango | |
| Astor Piazzolla | |
| Adiós Nonino | |
| Astor Piazzolla | |
| Novitango | |
| György Ligeti | |
| Musica ricercata VII | |
| György Ligeti | |
| Musica ricercata IV | |
| György Ligeti | |
| Musica ricercata III | |
| | |
Works for Accordion and Zither by Ligeti, Dowland, Couperin, Cage and Piazzolla
Viviane Chassot, Accordion
Martin Mallaun, Zither


In stock, shipping in 1-2 days.

We offer free shipping!

Please read our General Terms and Conditions and Privacy Statement carefully.




New, unusual, exciting – how many of us can say they've ever heard an accordion and zither performing together? After three successful GENUIN solo CDs, Swiss accordionist Viviane Chassot joins with partner Martin Mallaun on the zither, setting out for the first time on a chamber music journey. And right from the outset, the path leads us deep into the jungle, into the blank spaces on our musical map: the program features selections from Couperin to Cage, most of them arranged by the artists themselves. In the blink of an eye, the Renaissance merges with 20th century music, tango, and the avant-garde. A journey that promises this year's most exciting chamber music discoveries!




Nominated for the 2016 German Record Critics' Award

November 2016 / MusicWeb International
"Equally superbly recorded and performed, this is something of a surprise hit and deserves wide popularity. I hope that Duo Chassot/Mallaun go further and are able to score some original works as well as these admirable and highly entertaining arrangements."
Read the whole Review by Dominy Clements

29.11.16 / Schweizer Musikzeitung
Wärmste Empfehlung auf Französisch - auch als Weihnachtsgeschenk - von Michael Murray-Robertson:
"Le duo Chassot-Mallaun caresse chaque phrase avec tristesse, danse avec légèreté dans les deux pièces de François Couperin ou taquine gentiment dans les Chess Pieces de John Cage. Ainsi nos interprètes font-ils dialoguer des compositeurs que l'histoire avait séparés. (...) S'ajoute enfin à cela l'excellente présentation de ce CD qui ferait un cadeau de Noël idéal!"
Zum Artikel "Objets Trouvés… retrouvés!" in der Schweizer Musikzeitung

Musik Hug
Viviane Chassot is presented in the music store Musik Hug: