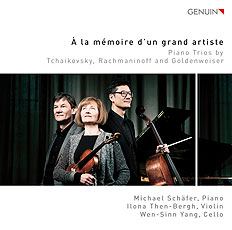 GEN 16437
EAN: 4260036254372
2.9.2016

| | |
| --- | --- |
| CD I: Pyotr I. Tchaikovsky (1840–1893) | |
| Piano Trio in A minor, Op. 50 (1882) | |
| À la mémoire d'un grand artiste (Nikolai Rubinstein †1881) | |
| CD II: Sergei Rachmaninoff (1873–1943) | |
| Trio élegiaque in D minor, Op. 9 (1893) | |
| À la mémoire d'un grand artiste (Pyotr I. Tchaikovsky) | |
| CD II: Alexander Goldenweiser (1875–1961) | |
| Piano Trio in E minor, Op. 31 (1950) | |
| À la mémoire de Sergei Rachmaninov | |
| | |
À la mémoire d`un grand artiste
Piano Trios by Tchaikovsky, Rachmaninoff and Goldenweiser


Double CD
Michael Schäfer, Piano
Ilona Then-Bergh, Violin
Wen-Sinn Yang, Cello
Kang-Un Kim, Harmonium


In stock, shipping in 1-2 days.

We offer free shipping!

Please read our General Terms and Conditions and Privacy Statement carefully.





À la memoire d'un grand artiste – all of the piano trios recorded here share this subtitle. The dedications also serve as connecting links between the three works: Rachmaninoff's piano trio, for example, is dedicated to the great composer Tchaikovsky, and Goldenweiser's trio to Rachmaninoff. Even if two of the composers performed by Michael Schäfer, Ilona Then-Bergh, and Wen-Sinn Yang are not unknown, the trio once again prove themselves to be able explorers of forgotten repertoire. Only one recording of the Goldenweiser trio exists to date, for example, with the composer himself at the piano, and the Rachmaninoff trio is recorded here for the first time in its original 1893 version (with added harmonium), which is practically unknown today. At the same time, À la memoire d'un grand artiste is an anniversary release: pianist Michael Schäfer has been treating us to exciting rediscoveries for 10 years now on GENUIN classics, with 15 CDs to date in the Un!erhört series.


Gramophone (01/2017)
"The playing blends poignancy with passion and some impressive projection and sensitive turns of phrase. The Tchaikovsky/Rachmaninov coupling alone would make the recording recommendable, and it is at least useful to have the Goldenweiser to complete the chain."

Musicweb International
"This is such an intelligently planned release."

Pizzicato Magazine
"With an interesting concept, this CD set enables the listener to experience three piano trios 'in memory of' in impeccable and passionate performances."

Fanfare Magazin
"With fine performances of two stalwarts of the Russian chamber-music repertoire, in variant versions that are not to be heard elsewhere, and of a related work that is little-known but of substantial interest, this release deserves a strong recommendation."