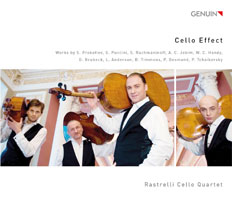 | | |
| --- | --- |
| Sergei Prokofiev (1891-1953) | |
| Romeo and Juliet, Op. 64 | |
| Juliet as a Young Girl | |
| Mercutio | |
| Dance of the Girls with Lilies | |
| Masks | |
| Dance of the Knights | |
| Giacomo Puccini (1858-1924) | |
| Tosca | |
| Aria "E lucevan le stelle" | |
| Sergei Rachmaninoff (1873-1943) | |
| Vocalise, Op. 34, No. 14 | |
| Antônio Carlos Jobim (1927-1994) | |
| Desafinado | |
| William Christopher Handy (1873-1958) | |
| St. Louis Blues | |
| Dave Brubeck (1920-2012) | |
| Blue Rondo à la Turk | |
| Leroy Anderson (1908-1975) | |
| The Syncopated Clock | |
| Antônio Carlos Jobim and Newton Mendonça | |
| One Note Samba | |
| Anonymous | |
| Bublichki | |
| Bobby Timmons (1935-1974) | |
| Moanin' | |
| Paul Desmond (1924-1977) | |
| Take Five | |
| Piotr Tchaikovsky (1840–1893) | |
| Valse Sentimentale in F minor, Op. 51, No. 6 | |
| | |
Works by S. Prokofiev, G. Puccini, S. Rachmaninoff, A. C. Jobim, W. C. Handy, D. Brubeck, L. Anderson, B. Timmons, P. Desmond and P. Tchaikovsky

In stock, shipping in 1-2 days.

Shipping only within the EU, UK, Switzerland, Norway
We offer free shipping!

Please read our General Terms and Conditions and Privacy Statement carefully.


Have you ever experienced tightrope walking on the cello? Because the enormously productive Rastrelli Cello Quartet, whose latest CD reached the top 10 list for four weeks straight on Russian iTunes, offers nothing less than this. Who needs an entire orchestra for Prokofiev's Romeo and Juliet when four cellos can come along with such a tremendous sound that is full of color and wit? Why do one need many singers and a huge stage for Puccini's Tosca when the four men can also move us to tears? More than just four cellos, this is cello playing to the fourth degree!

Frosty Queen
Here you can read an interview with cellist Kirill Timofeev of the Rastrelli Cello Quartet on the blog frosty queen.

American Record Guide
"This Russian group is highly enjoyable and recorded with clarity and resonance."
Review on the American Record Guide by D Moore, April 2016 (page 180)

Audiophile Audition
"Sound quality is very high, and the performances are uniform and solid."