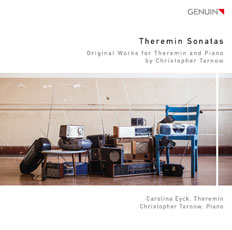 | | |
| --- | --- |
| Christopher Tarnow (*1984) | |
| Sonata for Theremin and Piano No. 1 (2013) | |
| Moderato | |
| Larghetto | |
| Presto giocoso | |
| Christopher Tarnow (*1984) | |
| Intermezzo for Theremin and Piano No. 1 (2014) | |
| Christopher Tarnow (*1984) | |
| Sonata for Theremin and Piano No. 2 (2014) | |
| Lento | |
| Passacaglia | |
| Fugato | |
| Christopher Tarnow (*1984) | |
| Intermezzo for Theremin and Piano No. 2 (2013) | |
| | |
Original Works for Theremin and Piano by Christopher Tarnow
Carolina Eyck, Theremin
Christopher Tarnow, Piano and Composition


In stock, shipping in 1-2 days.

Shipping only within the EU, UK, Switzerland, Norway
We offer free shipping!

Please read our General Terms and Conditions and Privacy Statement carefully.


A mysterious instrument, ethereal sounds, explosive music and a virtuoso player of the highest order: these are the requirements for a great CD! Carolina Eyck is one of the few internationally acclaimed theremin players. For her instrument, the Leipzig composer and pianist Christopher Tarnow has now written two sonatas, that he and Carolina Eyck have recorded together on their debut GENUIN CD. Christopher Tarnow's clear and differentiated piano playing complements the colorful, evocative, haunting sounds of Carolina Eyck on the theremin. In the best sense of the word: unheard!







Theremin World
"Theremin Sonatas" from Carolina Eyck and Christopher Tarnow"
The online magazine Theremin World announces the new album by Carolina Eyck and Christopher Tarnow

San Francisco Chronicle Late Edition
"This remarkable new disc of duets by the German team of theremin player Carolina Eyck and pianist-composer Christopher Tarnow is a sneaky delight"
Review on the San Francisco Chronicle Late Edition by Joshua Kosman, 15 November, 2015

Musica
"Carolina Eyck è probabilmente la più autorevole, potremmo dire la vera virtuosa dello strumento (...) Disco del tutto insolito, una vera apertura verso mondi sconociuti ai più, questo prodotto mette in risalto anche la grande facilità di scrittura e la tecnica pianistica di Christopher Tarnow."
Review on the Italian magazine Musica by Gabriele Moroni, February 2016

Audiophile Audition
"The musicianship is of very high quality. The recording is quite good. The instrument is captured accurately, and the stereo image is solid. One bonus on the disc is a video track with a wonderful explanation by Ms. Eyck of the Theremin and its qualities."
Review on the web-magazine Audiophile Audition by Mel Martin, 27.1.2016