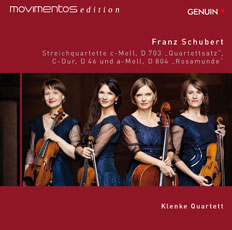 GEN 15360
EAN: 4260036253603
8.5.2015

| | |
| --- | --- |
| Franz Schubert (1797-1828) | |
| Streichquartett c-Moll, D 703 "Quartettsatz" (1820) | |
| Allegro assai | |
| Franz Schubert (1797-1828) | |
| Streichquartett C-Dur, D 46 (1813) | |
| Adagio - Allegro con moto | |
| Andante con moto | |
| Menuetto. Allegro | |
| Allegro | |
| Franz Schubert (1797-1828) | |
| Streichquartett a-Moll, D 804 "Rosamunde" (1824) | |
| Allegro ma non troppo | |
| Andante | |
| Menuetto. Allegretto | |
| Allegro moderato | |
| | |
String Quartets C minor (D 703) "Quartettsatz", C major (D 46) and A minor (D 804) "Rosamunde"

In stock, shipping in 1-2 days.

We offer free shipping!

Please read our General Terms and Conditions and Privacy Statement carefully.


The four women of the Klenke Quartet offer explosive quartet art in their new GENUIN CD from the Movimentos Edition. With it, they confirm the sheer exuberant critical acclaim and international prizes that they have received lately. They span a broad arch here, and not only through the program, which ranges from early Schubert up to his mature Rosamunde Quartet; in this particular lineup the power of this music unfolds in a special way. The ensemble's performance is energetic without being brash, beautiful sounding without being heavy, and clear without being analytic. An intense and extremely rewarding experience for chamber music lovers!









My Classical Notes
"The four women of the Klenke Quartet offer excellent quartet art in their new CD. With it, they confirm the critical acclaim and international prizes that they have received lately."
Review on My Classical Notes by Hank Zauderer, 27 May 2015

Artmag
"...consacré à un compositeur pour lequel elles semblent être nées : Franz Schubert."
Review on Artalinna by Jean-Charles Hoffelé, 2 septembre 2015

Fanfare
"This is masterful playing, in turns exhilarating and tender."
Review on the magazine Fanfare by Jerry Dubins, 23 October, 2015