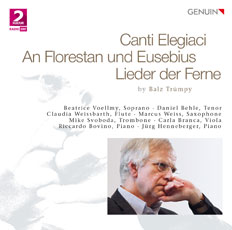 | | |
| --- | --- |
| Balz Trümpy (*1946) | |
| Canti Elegiaci (2007/2008) | |
| For Soprano, Flute and Piano, based on poems by Giacomo Leopardi and Michelangelo Buonarroti | |
| Balz Trümpy | |
| An Florestan und Eusebius (2010/2011) | |
| Duos and Trios for Saxophone (Soprano and Baritone), Trombone and Piano | |
| Balz Trümpy | |
| Lieder der Ferne (2007) | |
| For Tenor, Viola and Piano, based on poems by Eduard Mörike | |
| | |
Canti Elegiaci, An Florestan und Eusebius, Lieder der Ferne
by Balz Trümpy / World Premiere Recordings
Beatrice Voellmy, Soprano
Daniel Behle, Tenor
Claudia Weissbarth, Flute
Marcus Weiss, Saxophone
Mike Svoboda, Trompone
Carla Branca, Viola
Jürg Henneberger, Piano
Balz Trümpy, Composer


In stock, shipping in 1-2 days.

Shipping only within the EU, UK, Switzerland, Norway
We offer free shipping!

Please read our General Terms and Conditions and Privacy Statement carefully.


A CD featuring music of the 21st century that puts the listener under a spell from the very first moment the delicate sonorities emerge: included is the all-star cast of Mike Svoboda, Daniel Behle and Marcus Weiss who have come together on the new GENUIN CD featuring works by Balz Trümpy. The collection, which puts forward world premiere recordings, presents both intimate and large-scale chamber music works of the internationally award-winning composer. And the dreamlike arabesques that examine and look beyond the horizon show how absolutely exhilaratingly close contemporary music and Robert Schumann can be: sounds from afar!