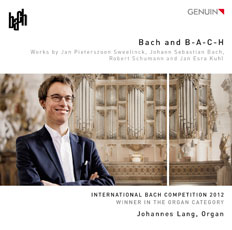 | | |
| --- | --- |
| Johann Sebastian Bach (1685–1750) | |
| Praeludium in C, BWV 566 | |
| Jan Pieterszoon Sweelinck (1562–1621) | |
| Fantasia à 4, SwWV 273 | |
| Johann Sebastian Bach (1685–1750) | |
| Contrapunctus 14 From "Art of the Fugue", BWV 1080 | |
| Robert Schumann (1810–1856) | |
| Vivace (Lebhaft) From "Six Fugues on B.A.C.H., Op. 60" | |
| Johann Sebastian Bach (1685–1750) | |
| Organ Sonata No. 6 in G major, BWV 530 | |
| Jan Esra Kuhl (*1988) | |
| Variations on B-A-C-H | |
| World premiere recording | |
| Johann Sebastian Bach (1685–1750) | |
| Toccata, Adagio and Fugue in C major, BWV 564 | |
| | |
Works by Jan Pieterszoon Sweelinck, Johann Sebastian Bach, Robert Schumann and Jan Esra Kuhl

In stock, shipping in 1-2 days.

Shipping only within the EU, UK, Switzerland, Norway
We offer free shipping!

Please read our General Terms and Conditions and Privacy Statement carefully.


Who says that young people nowadays don't present innovative programmes any more? The highly virtuoso winner of the Leipzig Bach Competition 2012, Johannes Lang, even manages to integrate a Bach homage into his GENUIN debut CD that was created before Bach's birth – is such a thing possible? Yes – listen to the CD for yourself and study the interesting text written by the soloist! Pieces by Bach himself and others based on the tone sequence B-A-C-H (B-flat, A, C, B-flat) are put together here in an intelligent compilation that will transport the organ-music lover from 1600 to the year 2014. It's an exciting journey that even contains a world premiere recording: Jan Esra Kuhl's "Variations on B-A-C-H".