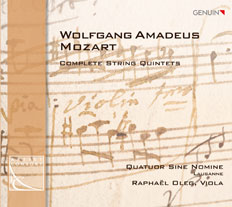 GEN 13275
EAN: 4260036252750
2.5.2014

| | |
| --- | --- |
| CD1: Wolfgang Amadeus Mozart | |
| String Quintet No. 4 in C minor, KV 406 | |
| CD1: Wolfgang Amadeus Mozart | |
| String Quintet No. 2 in C major, KV 515 | |
| CD1: Wolfgang Amadeus Mozart | |
| String Quintet No. 5 in D major, KV 593 | |
| CD2: Wolfgang Amadeus Mozart | |
| String Quintet No. 1 in B flat major, KV 174 | |
| CD2: Wolfgang Amadeus Mozart | |
| String Quintet No. 3 in G minor, KV 516 | |
| CD2: Wolfgang Amadeus Mozart | |
| String Quintet No. 6 in E flat major, KV 614 | |
| | |
Complete String Quintets
2 CDs for the price of 1
Quatuor Sine Nomine
Raphaël Oleg, viola


In stock, shipping in 1-2 days.

We offer free shipping!

Please read our General Terms and Conditions and Privacy Statement carefully.


Rounded, differentiated, balanced: this describes the sound of the Swiss Quatuor Sine Nomine on their second GENUIN CD, already the 13th of the Artist Consort Edition Ė a series on which artists dedicate themselves to matters truly dear to their hearts. And Mozart's string quintets are apparently one such matter. The second violist (RaphaŽl Oleg) lends the ensemble just that much more centre that distinguishes this rather small but highly refined group of works by Mozart. From the first second onwards, these works, played by five magnificent musicians, exude a great warmth that goes directly to their listeners' hearts. Why, then, have so few works of this genre been composed over the course of time?