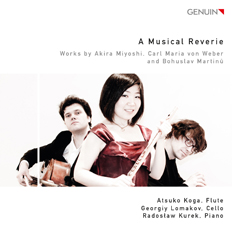 GEN 14306
EAN: 4260036253061
4.4.2014

| | |
| --- | --- |
| Akira Miyoshi (1933–2013 ) | |
| Sonata for Flute, Cello and Piano (1955 ) | |
| Modéré | |
| Passacaille | |
| Finale | |
| Carl Maria von Weber (1786–1826) | |
| Trio in G minor for Piano, Flute and Cello, Op. 63, J 259 (1819) | |
| Allegro moderato | |
| Scherzo . Allegro vivace | |
| Schäfers Klage . Andante espressivo | |
| Finale. Allegro | |
| Bohuslav Martinu (1890-1957) | |
| Trio for Flute, Cello and Piano H.300 (1944 ) | |
| Poco Allegretto | |
| Adagio | |
| Andante – Allegretto scherzando | |
| | |
Works by Akira Miyoshi, Carl M. von Weber and Bohuslav Martinú
Atsuko Koga, Flute
Georgiy Lomakov, Cello
Radoslaw Kurek, piano


In stock, shipping in 1-2 days.

We offer free shipping!

Please read our General Terms and Conditions and Privacy Statement carefully.


Dreams, illusions, nightmares, tender and formidable images: all this can be heard on the new, third GENUIN CD by the Japanese flutist Atsuko Koga. From the first lost melodies by her fellow-countryman Akira Miyoshi and the yearning musical arcs of Carl Maria von Weber to the playful, even euphoric figurations of Bohuslav Martinu, Koga and her partners Georgiy Lomakov (cello) and Radoslaw Kurek (piano) succeed in taking us with them into an ever-new musical and spiritual landscape. Their approach is so direct, fresh and immediate that one enjoys experiencing the three unknown treasures of chamber music with them from beginning to end. Repertoire and interpretation: extraordinary!