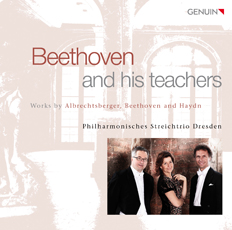 | | |
| --- | --- |
| Johann Georg Albrechtsberger (1736–1809) | |
| Trio in C major, Op. 9/1 | |
| Thema — Moderato | |
| Menuetto — Vivace | |
| Finale — Allegro | |
| Joseph Haydn (1732–1809) | |
| Trio in G major, Op. 53, No. 1 | |
| Allegretto ed innocente | |
| Presto | |
| Ludwig van Beethoven (1770–1827) | |
| Serenade for String Trio in D major, Op. 8 | |
| Marcia — Allegro | |
| Adagio | |
| Menuetto — Allegretto | |
| Adagio — Scherzo — Adagio — Allegro molto — Adagio | |
| Allegretto alla Polacca | |
| Andante quasi Allegretto con variazioni | |
| Marcia — Allegro | |
| | |
Beethoven and his teachers
Works by Albrechtsberger, Beethoven and Haydn
Philharmonisches Streichtrio Dresden


In stock, shipping in 1-2 days.

Shipping only within the EU, UK, Switzerland, Norway
We offer free shipping!

Please read our General Terms and Conditions and Privacy Statement carefully.


Already during Mozart's time, there was great enthusiasm for the genre of the trio: that intimate species of chamber music in which three instruments on an equal footing cultivated conversation with each other whilst challenging their audience. Adam Hiller, the successor to Bach, would also have certified the new debut CD of the Dresden Philharmonic String Trio from GENUIN as "Pleasure, Spirit and Art". The three high-ranking musicians bring together compositions here by Beethoven and his teachers – beginning during the period of Empfindsamkeit of the 1780s with Joseph Haydn and ending with the music of the young Bonn spitfire himself, the scintillating Serenade, Op. 8 that seems as if it had been written for the spirited playing of these Dresden musicians.