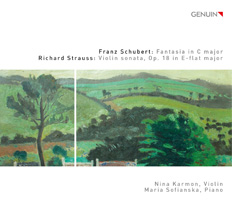 | | |
| --- | --- |
| Franz Schubert (1797–1828) | |
| Fantasia in C major D 934 | |
| Andante molto – Allegretto | |
| Andantino | |
| Tempo I | |
| Richard Strauss (1864-1949) | |
| Sonata, Op. 18 in E-flat major | |
| Allegro, ma non troppo | |
| Improvisation, Andante cantabile | |
| Finale, Andante - Allegro | |
| | |
Franz Schubert: Fantasia in C major
Richard Strauss: Violin sonata, Op. 18 in E-flat major
Nina Karmon, violin
Maria Sofianska, piano


In stock, shipping in 1-2 days.

Shipping only within the EU, UK, Switzerland, Norway
We offer free shipping!

Please read our General Terms and Conditions and Privacy Statement carefully.


The magnificent GENUIN debut CD of the two young musicians Nina Karmon (violin) and Maria Sofianska (piano) span a wide arch from the beginning of the Romantic period to its end: Schubert's wonderful
C-major Fantasy is contrasted with Richard Strauss's youthful, furiously heated Violin Sonata. This is an ambitious undertaking to which the duo partners more than do justice: from Schubert's reservedly luminous soundscapes to Strauss's sonic vehemence making an almost symphonic effect, they allow their instruments to sing, showing masterly ensemble playing. Grand arches – not only in their repertoire!