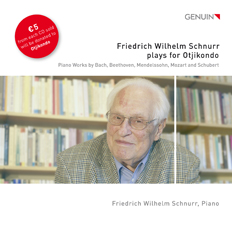 GEN 14296
EAN: 4260036252965
10.1.2014

| | |
| --- | --- |
| Wolfgang Amadeus Mozart (1756–1791) | |
| Fantasy in D minor K. 397 | |
| Wolfgang Amadeus Mozart (1756–1791) | |
| Adagio in B minor K. 540 | |
| Wolfgang Amadeus Mozart (1756–1791) | |
| Duport-Variations K. 573 | |
| Ludwig Van Beethoven (1770–1827) | |
| Bagatelle No. 25 in A minor "For Elise" | |
| Ludwig Van Beethoven (1770–1827) | |
| Rondo in C major, Op. 51 No. 1 | |
| Franz Schubert (1797–1828) | |
| Impromptu in A flat major, Op. 142 No. 2 | |
| Felix Mendelssohn Bartholdy (1809–1847) | |
| Piano Piece from "Songs without Words", Op. 67 No.1 | |
| Felix Mendelssohn Bartholdy (1809–1847) | |
| Piano Piece from "Songs without Words", Op. 67 No. 4 | |
| Johann Sebastian Bach (1685-1750) | |
| Choral from Cantata BWV 147, arranged by Myra Hess | |
| | |
Friedrich Wilhelm Schnurr plays for Otjikondo
Piano Works by Bach, Beethoven, Mendelssohn Bartholdy, Mozart and Schubert
Friedrich Wilhelm Schnurr, piano


In stock, shipping in 1-2 days.

We offer free shipping!

Please read our General Terms and Conditions and Privacy Statement carefully.


When a world-class piano pedagogue, a pianist of great importance like Friedrich-Wilhelm Schnurr, places his art at the service of a children's music project in Namibia – one can only take one's hat off to him. The fact that the Detmold Academy of Music, their students and the Leipzig GENUIN label unselfishly support this project is also worthy of great respect. But when one places the CD into the player, only the music counts: the octogenarian's piano playing sounds youthful and powerful, gripping and tender. Schnurr plays the great small piano pieces of Mozart, Beethoven and Bach with a singing tone and a broad color-spectrum. There are many reasons, therefore, for wishing this CD great success!