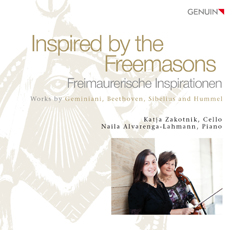 GEN 13541
EAN: 4260036255416
1.7.2013

| | |
| --- | --- |
| Francesco Geminiani (1687–1762) | |
| Sonata No. 6 in A minor, Op. 5 | |
| Ludwig van Beethoven (1770–1827) | |
| Twelve Variations on the Theme "Ein Mädchen oder Weibchen" | |
| from Mozart´s Opera "Die Zauberflöte" | |
| Ludwig van Beethoven (1770–1827) | |
| Seven Variations on the Theme "Bei Männern, welche Liebe fühlen" | |
| from Mozart´s Opera "Die Zauberflöte" | |
| Jean Sibelius (1865–1957) | |
| Four Pieces for Violin and Piano, Op. 78 | |
| Johann Nepomuk Hummel (1778–1837) | |
| Variations for Cello and Piano in D minor | |
| | |
Inspired by the Freemasons
Works by Geminiani, Beethoven, Sibelius and Hummel
Katja Zakotnik, cello
Naila Alvarenga-Lahmann, Piano


In stock, shipping in 1-2 days.

We offer free shipping!

Please read our General Terms and Conditions and Privacy Statement carefully.


The ideals of the Freemasons of brotherhood and freedom fell on fruitful ground for a considerable number of great musicians, including Jean Sibelius, Wolfgang Amadeus Mozart and Francesco Geminiani. The two young musicians Katja Zakotnik (cello) and Naila Alvarenga-Lahmann (piano) are now releasing a CD with chamber music works inspired by Freemasonry. The programme includes cheerful impressions from the Magic Flute, as interpreted by Beethoven, and Nordic sounds suffused with light by the Finnish national composer Sibelius, as well as music of Johann Nepomuk Hummel. An unusual compilation, movingly performed at the highest level!