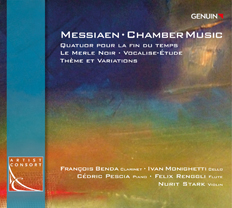 GEN 12258
EAN: 4260036252583
1.11.2012

| | |
| --- | --- |
| Olivier Messiaen (1908–1992) | |
| Quatuor pour la fin du temps | |
| Olivier Messiaen | |
| Le merle noir | |
| Olivier Messiaen | |
| Vocalise-Étude | |
| Olivier Messiaen | |
| Thème et variations | |
| | |
Quatuor pour la fin du temps, Le merle noir, Vocalise-Étude, Thème et variations
François Benda, clarinet
Ivan Monighetti, Cello
Cédric Pescia, Piano
Felix Renggli, Flute
Nurit Stark, Violin


In stock, shipping in 1-2 days.

We offer free shipping!

Please read our General Terms and Conditions and Privacy Statement carefully.



An even dozen: that's how many CDs the artists' collective Artist Consort has already released on Genuin, all unanimously praised by critics and listeners - and each new recording gives impressive proof of the independence of the aesthetic ideas of the musicians surrounding François Benda and Felix Renggli. Such is the case with this CD dedicated to the sound wizard Olivier Messiaen. Even after 70 years, his magnificent Quatuor pour la fin du temps has lost none of its freshness and magic, as the Artist Consort shows. Blossoming wind sounds, tender string colours and a warm, round piano sound mark this CD, which accompanies the timeless masterwork with three more small yet great pieces.





Diapason
"excellente interprétation"
Review in the French magazine Diapason

American Record Guide
"The concert is well played and expressive. Pescia leads the way with his outstanding keyboard skills and his inspired artistry, and all of the ensembles boast a nice blend, fantastic technique, and tight rhythm."
Review on the American Record Guide by Patrick Hanudel, 3/19/2013