| | |
| --- | --- |
| Fanny Hensel-Mendelssohn | |
| Andante cantabile Des-Dur | |
| Fanny Hensel-Mendelssohn | |
| Allegro molto c-Moll | |
| Fanny Hensel-Mendelssohn | |
| Das jahr. Zwölf Charakterstücke für Fortepiano | |
| Fanny Hensel-Mendelssohn | |
| Il Saltarello Romano | |
| Fanny Hensel-Mendelssohn | |
| Abschied von Rom | |
| | |
Fanny Hensel-Mendelssohn (1805-1847)
"The Year"

In stock, shipping on January 4th.

Shipping only within the EU, UK, Switzerland, Norway
We offer free shipping!

Please read our General Terms and Conditions and Privacy Statement carefully.


Starting with the first floating tones on the new GENUIN CD with the cycle "The Year", composed by Mendelssohn's sister Fanny upon completing a journey to Italy, one feels transported into another time period. Els Bieseman's Fortepiano debut CD set exactly those strings in vibration that have been lost on the new, well-equipped modern concert grand. The dark, dreamlike sound of the Pleyel grand (that Liszt & company enthused over…) beautifully fits the transparent, structured and always supple playing of the young Belgian musician. Wonderfully romantic music in which a splendid musician allows us to take part!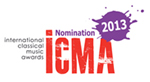 Early Music Review
"She plays with passion, musical sensitivity, virtuosity and emotional intensity that would surely have impressed Fanny..."
Review on the Early Music Review, 10/12 by Andrew Benson-Wilson

ResMusica
"Pour défendre cette heure de musique romantique du meilleur cru le label Genuin a embauché Els Biesemans, ... à son sens des nuances et à sa vision idéale d'une partition insuffisamment visitée. Une musique qui apaise dans une version destinée à faire date."
Review on the French magazine ResMusica by Jean-Luc Caron, 28.01.2013

American Record Guide
"The playing is much to be praised. She tends to be more mercurial in the faster pieces and moves more quickly in the slower ones. Her technique and expressive abilities are never too challenged, and she easily moves through all of the surface charms of the music. The engineers have also done their job very well."
Review on the American Record Guide by Alan Becker, January 2013