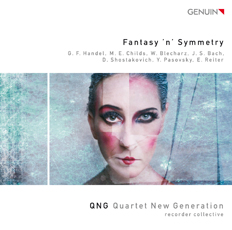 GEN 12249
EAN: 4260036252491
22.6.2012

| | |
| --- | --- |
| George Frideric Handel (1685–1759) | |
| Fugue VI in C minor, HWV 610 | |
| Mary Ellen Childs (*1957) | |
| Parterre | |
| Wojciech Blecharz (*1981) | |
| Airlines | |
| Johann Sebastian Bach (1685–1750) | |
| Contrapunctus IV, BWV 1080 | |
| Dmitri Shostakovich (1906–1975) | |
| Fugue No. 1 in C major | |
| Johann Sebastian Bach | |
| Contrapunctus IX à 4 alla duodecima, BWV 1080 | |
| Yoav Pasovsky (*1980) | |
| Pessel | |
| George Frideric Handel | |
| Fugue IV in B minor, HWV 608 | |
| Eva Reiter (*1976) | |
| Zug ins Gelobte | |
| | |
G.F. Handel, M.E. Childs, W. Blecharz, J.S. Bach, D. Shostakovich, Y. Pasovsky, E. Reiter

In stock, shipping in 1-2 days.

We offer free shipping!

Please read our General Terms and Conditions and Privacy Statement carefully.


When the four young ladies of the Quartet New Generation start off once again on fantastic voyages of discovery throughout musical history on their second GENUIN CD, one hears recorders in a perfection that makes one's breath (the listener's, that is) stand still… daredevil cross connections, bridges over centuries, paradoxical symmetries – from Handel to Childs, from Blecharz to Bach. The most widely varied fugues, fugati, canons and other beelines waft away from the loudspeakers as one listens to the ethereal sounds whilst speechlessly agape. Fantasy `n` Symmetry: chamber music of the topmost class!