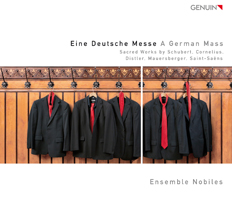 | | |
| --- | --- |
| Franz Schubert | |
| Deutsche Messe | |
| Zum Eingang | |
| Paul Heller | |
| Kyrie eleison | |
| Kurt Thomas | |
| Mitten wir im Leben sind | |
| Franz Schubert | |
| Deutsche Messe | |
| Zum Gloria | |
| Moritz Hauptmann | |
| Ehre sei Gott in der Höhe | |
| Manfred Schlenker | |
| Gott wohnt in einem Lichte | |
| Franz Schubert | |
| Deutsche Messe | |
| Zum Evangelium und Credo | |
| Camille Saint-Saens | |
| Veni Creator Spiritus | |
| Hugo Distler | |
| Wir glauben an Gott, den Vater | |
| Franz Schubert | |
| Deutsche Messe | |
| Zum Offertorium | |
| Hugo Distler | |
| Herr, schicke, was du willst | |
| Franz Schubert | |
| Deutsche Messe | |
| Zum Sanctus | |
| Erhard Mauersberger | |
| Wessobrunner Gebet | |
| Franz Schubert | |
| Deutsche Messe | |
| Nach der Wandlung | |
| Zum Agnus Dei | |
| Hugo Distler | |
| O Mensch, bewein dein Sünde groß | |
| Michael Praetorius | |
| Aus tiefer Not schrei ich zu dir | |
| Franz Schubert | |
| Deutsche Messe | |
| Schlußgesang | |
| Georg Christoph Biller | |
| Verleih uns Frieden gnädiglich | |
| | |
Sacred Works by Schubert, Cornelius, Distler, Mauersberger, Saint-Saens

In stock, shipping in 1-2 days.

Shipping only within the EU, UK, Switzerland, Norway
We offer free shipping!

Please read our General Terms and Conditions and Privacy Statement carefully.


Ensemble Nobiles has already earned itself a place in the a cappella pantheon. The five former choristers of the famed St. Thomas Church choir in Leipzig present a recording of Franz Schubert's German Mass and skillfully round off the disc with contemporary motet settings. The young ensemble not only performs settings by church musicians such as Hugo Distler and Manfred Schlenker, but also feature the works of several St. Thomas cantors. The motet Verleih uns Frieden gnädiglich (Grant us your gracious peace) by the current Leipzig Thomaskantor Georg Christoph Biller brings this CD of sacred vocal works full circle – from Schubert all the way to the music of our times.





Music Web International - Recording of the Month
"This is definitely worth exploring, then, not just for its thoughtful programming but also for anyone who is fond of the sound of a male choir."
Review on the Music Web International by Simon Thompson

American Record Guide
"...very fine recording!"
Review on the American Record Guide by Paul L. Althouse, 12. November 2012