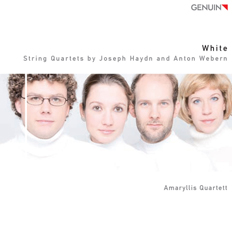 GEN 11218
EAN: 426003625187
14.10.2011

| | |
| --- | --- |
| Joseph Haydn (1732-1809) | |
| String Quartets in F major, Op. 5 "The Dream" | |
| Anton Webern (1883-1945) | |
| Five Movements for String Quartet, Op. 5 | |
| Joseph Haydn | |
| String Quartet in G minor, Op. 74, No. 3 "The Rider" | |
| | |
String Quartets by Joseph Haydn and Anton Webern

In stock, shipping in 1-2 days.

We offer free shipping!

Please read our General Terms and Conditions and Privacy Statement carefully.



If a string quartet wins two of the most important competitions for their instruments within only a few months, this is something of a sensation – even if the Amaryllis Quartett, whose debut GENUIN CD is now being released, had long been a household name among chamber music fans. Now listeners can revel in the refined tone and technical perfection of their playing and also delight in the musical poise, maturity and its excellent programming: Webern's aphoristic Five Movements for String Quartet framed by Haydn quartets. A wide arc reaching across the history of the genre – a tremendous quartet discovery.










"Sound quality and lightness were brought together with a clear view of the points of culmination, harmonic frictions and quiet moments of excitement. The Finale of the so-called 'Horseman Quartet' rightly attained Beethovenian traits with sharpened contrasts."
Frankfurter Allgemeine Zeitung, 21 February 2011

"They zestfully passed motifs and humorous turns of phrase to each other - at the same time, they had infinitely many nuances of colour..." Hamburger Abendblatt, 27 June 2011

"(The musicians) played at a luxurious level of excellence, perfectly in tune and precise on the one hand, on the other hand breathtakingly colourful, variegated and expressively strong." Augsburger Allgemeine Zeitung, 4 July 2011

"The coordination between the four was stupendous: each shift of tempo, each change of dynamics (…) came absolutely synchronously and as if a matter of course."
Süddeutsche Zeitung, 15 October 2011

"The Amaryllis Quartet delivered such a spirited, authentic rendition of the 'Lyric Suite' that it was a rare delight to experience these young string players making music in complicated twelve-tone rows (...)."
Südwest Presse, 20 October 2011

"(They) were especially convincing with a dramaturgical, clearly differentiated rendition of Haydn's 'Horseman Quartet': one could already hear the joy apparent in their music making, but also, and especially, the depth and knowledge of widely breathed phrases and internal correlations. An excellent ensemble." Die Presse (Vienna), 23 November 2011

"(The players) took their audience's breath away with their profoundly thoughtful and narrative imagination..." Hamburger Abendblatt, 29 November 2011

"Gripping and sonorous, but not with a thick tone, the Amaryllis Quartet was able to extract much charm from Mozart's Quartet, K. 499 - (…) tender and thoughtful in the slow movement. Brahms (ended up) as the climax of the concert, (…) full of passion and gentle melancholy."
Frankfurter Allgemeine Zeitung, 8 March, 2012

"The contrasts were excitingly sharpened in the first movement (Haydn, Op. 74/3), the Largo bursting out full of tenseness beyond its beautiful cantabile quality, whilst the winks between the string players became audible in the Minuet. And their sound became quite roughened once again in the Finale, lending the movement a richness in the art of differentiation that repeatedly ensured incredible astonishment - a far cry from the fussy old 'Papa Haydn'!"
Die Welt, 7 August, 2012


HAYDN
"The polished playing of the Amaryllis Quartet that lent Haydn's music such a ravishing vitality also traced Webern's unfamiliar sound worlds with the greatest sensitivity."
Klassik heute, 31 December 2011

"With their white album, the four musicians are now presenting a recording that is played with virtuosity, but is especially convincing through its intensity. One can hear that the Quartet are passionately involved in their playing and act with the greatest sensitivity for the work in question."
WDR3 TonArt broadcast, 10 January 2012

"The 'white' album of the formation, winners of many prizes, conjures up the essential beauty, clarity of thought and profound joy of living in two quartets of Joseph Haydn with convincing precision and youthful freshness..."
crescendo, 31 January 2012

FRID
"Frid's string quartets are modern classics of high quality that can also be heard next to Shostakovich or Bartók, and the young Swiss-German Amaryllis Quartet (...) make music full of wakefulness, finesse, devotion and intelligence." neue musikzeitung, July 2008

"After impressionistic beginnings, Géza Frid, a Hungarian who emigrated to Holland and remained there, became a clever formal experimenter. The Amaryllis Quartet demonstrates this: whether Frid makes the counterpoint dance or becomes cyclic-melodic, his music (with a predilection for glissandi) always retains an essay-like, profoundly human quality." KulturSpiegel, 24 July 2008