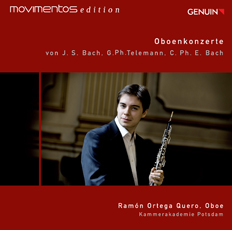 GEN 11209
EAN: 4260036252095
16.9.2011

| | |
| --- | --- |
| Carl Philipp Emanuel Bach (1714–1788) | |
| Konzerte für Oboe (Flöte), Streicher und Cembalo d-Moll, Wq. 22 | |
| Johann Sebastian Bach (1685–1750) | |
| Konzert für Oboe (Violine), Streicher und B.c. Nr. 1 a-Moll, BWV 1041 | |
| G. Ph. Telemann (1681–1767) | |
| Konzert für Oboe (Oboe d´amore), Streicher und B.c. A-Dur, TWV 51:A2 | |
| Johann Sebastian Bach | |
| Konzert für Oboe (Violine), Streicher und B.c. Nr. 5 g-Moll, BWV 1056 | |
| | |
by J. S. Bach, G. Ph. Telemann, C. Ph. E. Bach
Ramón Ortega Quero, Oboe
Kammerakademie Potsdam
Peter Rainer, Concertmaster


In stock, shipping in 1-2 days.

We offer free shipping!

Please read our General Terms and Conditions and Privacy Statement carefully.


If you are able to play the oboe the way ARD Music Competition Winner Ramón Ortega Quero does, questions about "historical performance practice" or "authentic instruments" lose their importance. In Ortega's GENUIN debut recording of Baroque oboe concertos – released as part of the Movimentos Edition – listeners witness an unending stream of perfect sound, making you perhaps believe it is a human voice singing, complaining or even speaking with its audience. Works by JS Bach, CPE Bach and Telemann are featured on the disc with Ortega felicitously supported by the highly versatile Kammerakademie Potsdam. This is music which touches the soul.