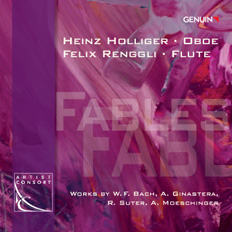 GEN 11211
EAN: 426003625
20.5.2011

| | |
| --- | --- |
| Alberto Ginastera (1916–1983) | |
| Duo, Op. 13 for Flute and Oboe (1945) | |
| Wilhelm Friedemann Bach (1710–1784) | |
| Sonata No.1 in E Minor (1733–1746) | |
| Robert Suter (1919–2008) | |
| 5 Duetti per Flauto e Oboe (1967) (World Premiere Recording) | |
| Wilhelm Friedemann Bach (1710–1784) | |
| Sonata No.3 in E-Flat Major (1733–1746) | |
| Albert Moeschinger (1897–1985) | |
| Sept Fables (1979) (World Premiere Recording) | |
| Wilhelm Friedemann Bach (1710–1784) | |
| Sonata No.4 in F Major (1733–1746) | |
| | |
Works by W. F. Bach, A. Ginastera, R. Suter, A. Moeschinger
Felix Renggli, Flute
Heinz Holliger, Oboe, composer


In stock, shipping in 1-2 days.

We offer free shipping!

Please read our General Terms and Conditions and Privacy Statement carefully.


Felix Renggli's third GENUIN-CD in the Artist Consort series features more than the compelling works for flute and oboe ranging from Wilhelm Friedemann Bach to Alberto Ginastera. The fact that works by Robert Suter (Sei Duetti) and Albert Moeschinger (Sept Fables) are presented here as world premieres is only part of the story for this CD. Even the information that the grand seigneur of the oboe, Heinz Holliger, teamed up with Renggli is still not the ultimate secret about this release. Only when you hear the inspired, superbly accomplished playing of the two exceptional instrumentalists – then you realize what a generous gift the Swiss duo has in fact given us by making this recording.